All Events
LOCAL AUTHOR HAYDEN ENTRESS, NOTHING BEATS HEALTHY TREATS
Saturday June 23rd, 1-3 PM
Off the Beaten Path is proud to host local author and baker Hayden Entress with her new healthy baking cookbook, Nothing Beats Healthy Treats! Hayden has grown up in Steamboat Springs, and has just graduated from high school, and she has truly prooved herself to be a truly innovative and talented member of our community. When Hayden found herself suffering from many different symptoms, from bad skin to an irritated digestive system and stomach pains, she decided to take things into her own hands. After much trial and error, her research resulted in this fabulous book full delicious sweet recipes that are gluten, dairy, soy, and refined sugar free. Don't miss out on this great opportunity to learn about healthy high-altitude baking (and to try some of these tasty treats yourself)!
Stop by the store to get your copy TODAY!
DEE HUBBARD, AT THE ALTARS OF MONEY
Thursday, June 28th 6-8 PM
Off the Beaten Path is proud to host Dee Hubbard, local author of the #1 AMAZON BEST SELLER At the Altars of Money, for an exciting discussion and signing! At the Altars of Money seeks to entertain and engage readers in settings ranging from Colorado's mountains to Manhattan, and from the Bahamas to the Scottish Highlands. It's also informative, provocative, and willing to challenge popular beliefs. Infused with real people, real events, and real places, this new novel blends keen minds with romantic hearts and intrepid souls with a satirical edge. Dee Hubbard is a recovering accountant who's replaced addiction to numbers with dedication to words. His first two books were Denver Post Best Sellers and nominated for a Colorado Book Award. Join us for happy hour and listen in to this fantastic event!
MUSEUM FUNDRAISER EVENT: TOUR OF THE ELKHEAD ROCK SCHOOL HOUSE WITH AUTHOR OF NOTHING DAUNTED, DOROTHY WICKENDEN!
Saturday June 30th 5:30-6:30 PM
The School house is located on private property- thanks to the generosity of the Green Family for sharing the school with us in order to raise funds to help the Museum continue to preserve our local history!!
For 2018 we have been very fortunate that the author of the book and executive editor of the New Yorker magazine, Dorothy Wickenden will join us for the tour making the experience even more memorable!!
​Come and immerse yourself in local history while supporting the museum!!
KILLDOZER, PATRICK BROWER
Thursday, July 5th 6-8 PM

Off the Beaten Path is happy to host Patrick Brower, author of KILLDOZER: The True Story of the Colorado Bulldozer Rampage, about Marvin Heemeyer's bulldozer frenzy that destroyed 13 buildings in a small mountain town, casting light on that bizarre event and the rash of violent rampages in America and this country's fact-challenged landscape. Using audio tapes left behind by Marvin Heemeyer, and police footage of the rampage, Patrick Brower gives a glimpse into the mind of the man behind the Killdozer. Using a multi-media presentation, Brower discusses how Marvin came to live in Grand County, how he felt betrayed by locals, and how he decided to build a tank out of a 60 ton Komatsu bulldozer.

GEORGIA BLAIR, BANANA GEORGE! DON'T WAIT FOR LIFE TO HAPPEN, MAKE IT HAPPEN
Wednesday, July 18th @ BWML 7PM

Inspiration, Legend, Senior Superstar: An evening to celebrate Banana George with his daughter, author Georgia Blair, and a new biography about Steamboat's famous Honorary Snowboard Ambassador!

Whether it was car racing with Prince Albert of Monaco, water skiing for King Hussein of Jordan, being interviewed by David Letterman and Oprah Winfrey, or snowboarding with his grandsons, Banana George had a huge appetite for life. Known for being a five-time Guinness Book of World Records holder, he was also inducted into the Water Ski Hall of Fame. As an entrepreneur, he is recognized for innovation. He did all this while wearing his signature color—yellow—and handing out bananas to everyone. In this biography, you will discover how Banana George overcame his disability at age 40 to become a world-renowned barefoot water skier and intrepid showman. You'll marvel at his zest for life.

Banana George was an icon in water ski barefooting. At age 75, he learned to snowboard. He became Steamboat's Honorary Snowboard Ambassador, and my close friend. He loved to share his enthusiasm. His life was an inspiration to me and his story will be an inspiration to you. — Billy Kidd, Olympic Skiing Medalist and World Champion.
JACQUELYNE COX, THE BEST STEAMBOAT HIKES
Saturday, July 21st 12-2 PM
From the Mount Zirkel Wilderness to the Flat Tops Wilderness, The Best Steamboat Hikes highlights 20 of the most popular trails in and around the Steamboat Springs area. From the summit of Hahn s Peak, hikers enjoy a 360-degree panorama, while Rabbit Ears Pass offers huge fields of wildflowers. Featuring color photos, maps and elevation gain, and trail ratings, this book will guide you through the best and most easily accessible day hikes. All of these trails are under 10 miles round trip, and will provide the user with a great variety of terrain and scenery specific to this unique region situated in beautiful Northwest Colorado.
ISABELLE SAWHILL, THE FORGOTTEN AMERICANS: AN ECONOMIC AGENDA FOR A DIVIDED NATION
Wednesday, July 25th @ BWML 7PM

An evening with one of the country's leading scholars on economics and social policy discussing her current research and forthcoming book, The Forgotten Americans.

Isabel Sawhill addresses the enormous divisions in American society—economic, cultural, and political—and what might be done to bridge them. Widening inequality and the loss of jobs to trade and technology has left a significant portion of the American workforce disenfranchised and skeptical of governments and corporations alike. And yet both have a role to play in improving the country for all.

Sawhill argues for a policy agenda based on mainstream values, such as family, education, and work. While many have lost faith in government programs designed to help them, there are still trusted institutions on both the local and federal level that can deliver better job opportunities and higher wages to those who have been left behind. At the same time, the private sector needs to reexamine how it trains and rewards employees. This book provides a clear-headed and middle-way path to a better-functioning society in which personal responsibility is honored and inclusive capitalism and more broadly shared growth are once more the norm.

KELLY ROBBINS, TRUST YOUR NEXT STEP: CREATING THE CONFIDENCE TO CUT FRESH TRACKS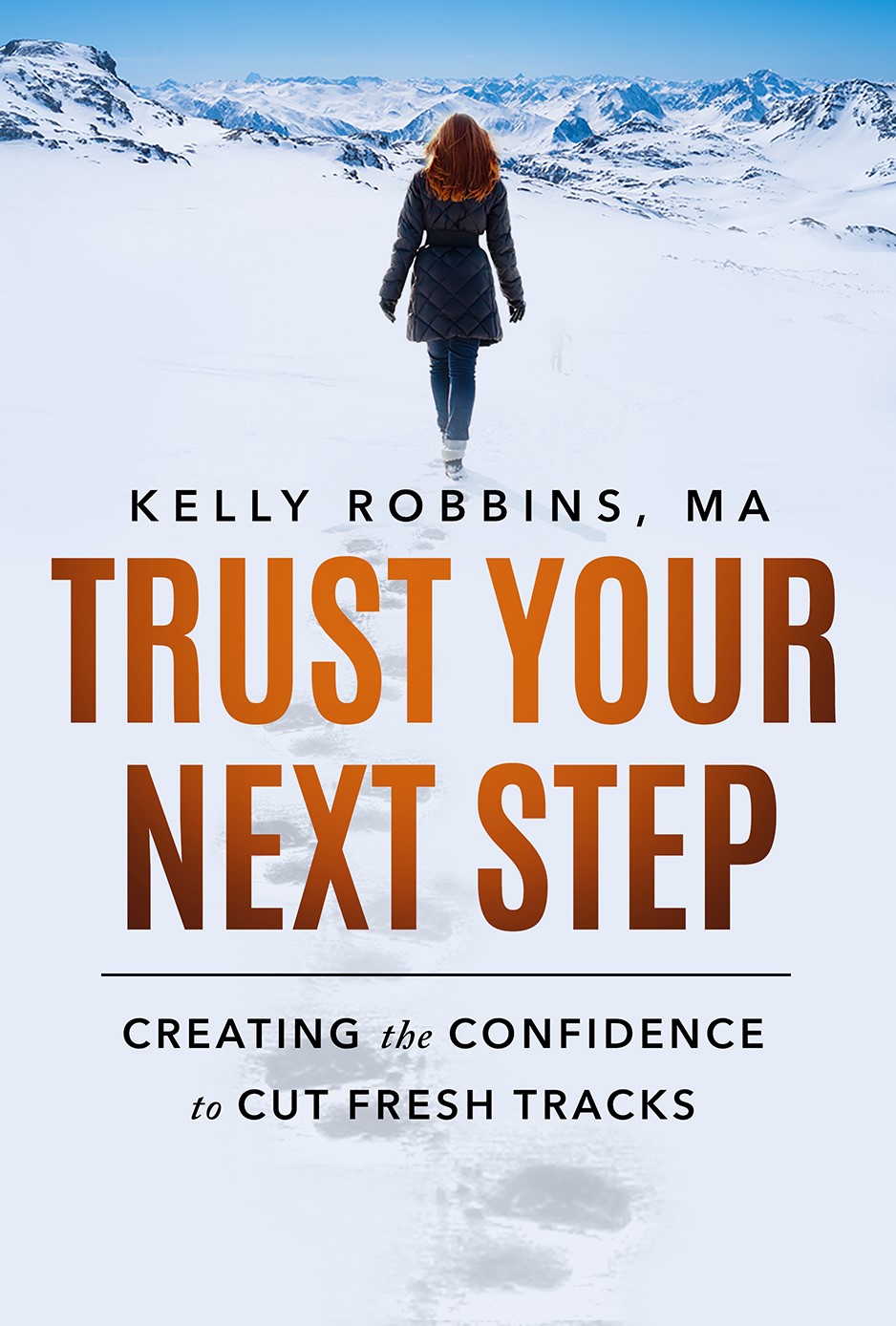 Thursday, July 26th 6-8 PM

Off the Beaten Path is proud to host Kelly Robbins, author of Trust Your Next Step: Creating the Confidence to Cut Fresh Tracks, and the woman behind The Fresh Tracks podcast. There is nothing quite like being the first one to cut tracks in the powder on a bluebird day skiing. The connection to nature as you glide down, knowing you are the first to experience the run for the day and that no one else will see what you are seeing right in that moment is priceless. Words can't express the feelings involved. The same feelings of connection, calmness and peace can be experienced when you are living life on purpose and bringing your vision to reality through your work. For many of us this involves speaking and living our truth and creating a business from that place. Please join us for this evening of meaningful self-reflection and guidance.