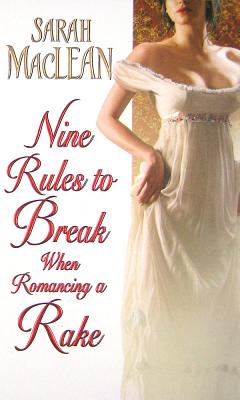 Nine Rules to Break When Romancing a Rake (Love By Numbers #1)
Publication Date:
March 30th, 2010
Description
A lady does not smoke cheroot. She does not ride astride. She does not fence or attend duels. She does not fire a pistol, and she never gambles at a gentlemen's club.
Lady Calpurnia Hartwell has always followed the rules, rules that have left her unmarried—and more than a little unsatisfied. And so she's vowed to break the rules and live the life of pleasure she's been missing.
But to dance every dance, to steal a midnight kiss—to do those things, Callie will need a willing partner. Someone who knows everything about rule-breaking. Someone like Gabriel St. John, the Marquess of Ralston—charming and devastatingly handsome, his wicked reputation matched only by his sinful smile.
If she's not careful, she'll break the most important rule of all—the one that says that pleasure-seekers should never fall hopelessly, desperately in love . . .
Praise for Nine Rules to Break When Romancing a Rake (Love By Numbers #1)
"Sarah MacLean's books are fierce." — Julia Quinn, #1 New York Times bestselling author of the Bridgerton series
"I recommend anything by Sarah MacLean." — Lisa Kleypas, New York Times bestselling author
"MacLean's books should be required reading...She is, without question, the elegantly fuming, utterly intoxicating queen of historical romance." — Entertainment Weekly
"MacLean's devilishly fun debut novel is an absolute delight: rich in supple wit, suffused with sensuality, and enlivened with a wonderfully engaging cast of characters."  — Booklist (starred review) on Nine Rules to Break When Romancing a Rake
"The nineteenth-century clothes are luscious, the twenty-first sensibility is raunchy, and it's all implausible, escapist fun." — Publishers Weekly on Nine Rules to Break When Romancing a Rake
"Sarah MacLean reinvents the historical romance for the modern reader. Don't know if you would enjoy historical romance? Do yourself a favor and discover the compelling magic of Sarah MacLean. Her sharp, edgy, witty and intense novels overflow with cross-genre appeal." — Amanda Quick, New York Times bestselling author
"Bestseller MacLean (Daring and the Duke) launches her Hell's Belles series with a sizzling, adventurous Victorian romance...This promises good things to come." — Publishers Weekly
"With the splendidly conceived launch to her new Hell's Belles series, RITA award-winning MacLean aptly demonstrates that her literary magic never loses its allure by gifting readers with both an extraordinarily memorable cast of characters and a fiercely feminist storyline powered by ample measures of intense sensuality and sharp wit." — Booklist