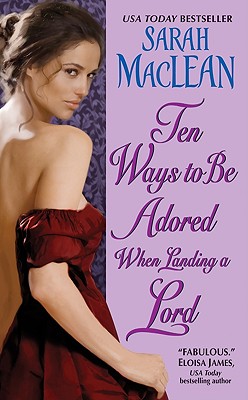 Ten Ways to Be Adored When Landing a Lord (Love By Numbers #2)
Publication Date:
October 26th, 2010
Usually Ships in 1 to 5 Days
Description
Since being named "London's Lord to Land" by a popular ladies' magazine, Nicholas St. John has been relentlessly pursued by every matrimony-minded female in the ton. So when an opportunity to escape fashionable society presentsitself, he eagerly jumps—only to land in the path of the most determined, damnably delicious woman he's ever met!
The daughter of a titled wastrel, Lady Isabel Townsend has too many secrets and too little money. Though she is used to taking care of herself quite handily, her father's recent passing has left Isabel at sea and in need of outside help to protect her young brother's birthright. The sinfully handsome, eminently eligible Lord Nicholas could be the very salvation she seeks.
But the lady must be wary and not do anything reckless and foolish…like falling madly, passionately in love.
Praise for Ten Ways to Be Adored When Landing a Lord (Love By Numbers #2)
When it comes to crafting wonderfully escapist love stories composed of equal measures of sexy romance and sharp wit, literary newcomer MacLean is unrivaled. — Chicago Tribune