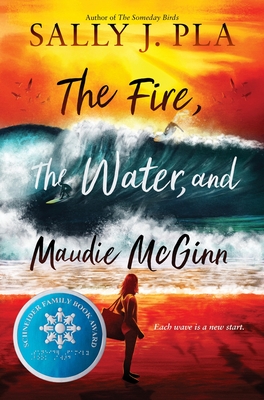 The Fire, the Water, and Maudie McGinn
Publication Date:
July 11th, 2023
Publisher:
Quill Tree Books
Off the Beaten Path Bookstore
1 on hand, as of Nov 30 10:38am
(Children's Juvenile Fiction (7-11))
On Our Shelves Now
Description
Neurodivergent Maudie is ready to spend an amazing summer with her dad, but will she find the courage to tell him a terrible secret about life with her mom and new stepdad? This contemporary novel by the award-winning author of The Someday Birds is a must-read for fans of Leslie Connor and Ali Standish.
Maudie always looks forward to the summers she spends in California with her dad. But this year, she must keep a troubling secret about her home life—one that her mom warned her never to tell. Maudie wants to confide in her dad about her stepdad's anger, but she's scared.
When a wildfire strikes, Maudie and her dad are forced to evacuate to the beach town where he grew up. It's another turbulent wave of change. But now, every morning, from their camper, Maudie can see surfers bobbing in the water. She desperately wants to learn, but could she ever be brave enough?
As Maudie navigates unfamiliar waters, she makes friends—and her autism no longer feels like the big deal her mom makes it out to be. But her secret is still threatening to sink her. Will Maudie find the strength to reveal the awful truth—and maybe even find some way to stay with Dad—before summer is over?
Praise for The Fire, the Water, and Maudie McGinn
"A heartfelt story of courage and hope about Maudie, who navigates the world in her own unique divergent way, even while struggling with challenging family dynamics and loss. Readers will cry, cheer, and celebrate, and not soon forget, Maudie McGinn."  — Pam Muñoz Ryan, Newbery Honor-winning author 
"A gorgeous, bighearted, beautiful book. I loved it."   — Elana K. Arnold, award-winning author of A Boy Called Bat
"A powerful and deeply affecting story that will carry readers along like the perfect wave." — Barbara Dee, author of Maybe He Just Likes You 
"A vulnerable portrait of one girl seeking to empower and redefine herself outside of her personal traumas." — Publishers Weekly (starred review)
"Anyone who's different in a place where being different is feared will identify with Maudie's struggles. Maudie's journey from blaming herself for her neurodivergence to standing up for herself brings joy and hope to this autistic reader." — Lyn Miller-Lachmann, author of the LA Times Book Prize-winning Torch 
"A breathtakingly beautiful ride of a story about an unforgettable, neurodivergent heroine." — Jess Redman, award-winning author of The Miraculous
"Gorgeously written; brims with empathy and understanding."
— Emily Barth Isler, author of AfterMath
"Through Maudie's earnest, occasionally poetic narration, Pla vividly explores the ways that physical and verbal abuse can distort self-perception. A perceptive, poignant tale of self-discovery." — Kirkus Reviews
"Any reader who has ever felt different will be able to relate to Maudie's journey to finding her home and her people." — ALA Booklist
"A unique and memorable story that will appeal to middle grade readers open to a creative format and heavier themes."  — School Library Journal
"Narrator Shalan marvelously, effortlessly personifies Pla's characters." — School Library Journal, audiobook review