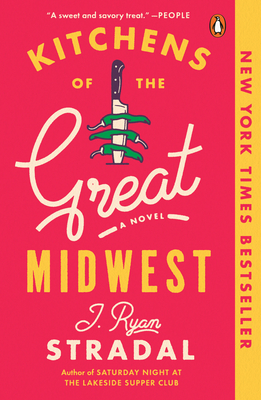 Kitchens of the Great Midwest: A Novel
Publication Date:
June 7th, 2016
Off the Beaten Path Bookstore
1 on hand, as of Dec 7 4:22am
(Fiction)
On Our Shelves Now
In the story of Midwestern chef savant Eva Thorvald and the people -- and foods -- that touch her life, Stradal has created a picture of the American foodie revolution of the past 25 years and of its intersections with class, economics, family, and culture. Along with irresistible characters and stories, this is a novel about the potential that food and cooking offer for joy and empowerment, for snobbery and shame, and for identity and reinvention. Beautifully structured and affectionately and hilariously written, this is a novel that -- like Thorvald's exclusive pop-up supper club -- everyone is going to be talking about!
August 2015 Indie Next List
Description
"A sweet and savory treat." —People
"An impressive feat of narrative jujitsu . . . that keeps readers turning the pages too fast to realize just how ingenious they are."—The New York Times Book Review, Editor's Pick

From the New York Times bestselling author of The Lager Queen of Minnesota, Kitchens of the Great Midwest is a novel about a young woman with a once-in-a-generation palate who becomes the iconic chef behind the country's most coveted dinner reservation. 
 
When Lars Thorvald's wife, Cynthia, falls in love with wine—and a dashing sommelier—he's left to raise their baby, Eva, on his own. He's determined to pass on his love of food to his daughter—starting with puréed pork shoulder. As Eva grows, she finds her solace and salvation in the flavors of her native Minnesota. From Scandinavian lutefisk to hydroponic chocolate habaneros, each ingredient represents one part of Eva's journey as she becomes the star chef behind a legendary and secretive pop-up supper club, culminating in an opulent and emotional feast that's a testament to her spirit and resilience.
 
Each chapter in J. Ryan Stradal's startlingly original debut tells the story of a single dish and character, at once capturing the zeitgeist of the Midwest, the rise of foodie culture, and delving into the ways food creates community and a sense of identity. By turns quirky, hilarious, and vividly sensory, Kitchens of the Great Midwest is an unexpected mother-daughter story about the bittersweet nature of life—its missed opportunities and its joyful surprises. It marks the entry of a brilliant new talent.
Praise for Kitchens of the Great Midwest: A Novel
Praise for Kitchens of the Great Midwest:
"I read J. Ryan Stradal's Kitchens of the Great Midwest on a flight. I buckled my seatbelt, opened the book and when I looked up again, the flight attendant was asking if I needed assistance getting off the plane. I didn't, but now you know the spell this author can cast. He does it again with The Lager Queen of Minnesota." —Elisabeth Egan for The New York Times
"An impressive feat of narrative jujitsu. . . that keeps readers turning the pages too fast to realize just how ingenious they are."—The New York Times Book Review, Editor's Pick
"This is a book that made me want to have a more full and colorful life, a life with cookbooks and a well-used kitchen, and to delight at all the goodness that can be put in front of us."—Los Angeles Review of Books
"A sweet and savory treat." —People

"The author's gentle skewering of foodie snobs (from county fair doyennes to the vegan/gluten-free/soy-free police) is spot on, and the blend of humor, warmth, and longing that he uses to portray family relationships make the book insightful and endearing. Savor it page by page."—Oprah.com

"Kitchens of the Great Midwest is a terrific reminder of what can be wrested from suffering and struggle – not only success, but also considerable irony, a fair amount of wisdom and a decent meal."—Jane Smiley, The Guardian
"Warning: this will make you hungry. . . . You won't be able to put it down. And it will up your kitchen game."—The Skimm
"Garrison Keillor's got nothing on [J. Ryan Stradal]!"—'Here and Now', NPR
"A tender coming-of-age story with a mix of finely rendered pathos and humor."—Washington Post
"Stradal's debut novel tackles foodie culture with all the finesse of a pastry chef…Reading Kitchens is all pleasure." —LA Magazine
"[A] captivating debut novel. . . as surprising and satisfying as a great meal."—Tampa Bay Times
"Foodies and those who love contemporary literature will devour this novel that is being compared to Elizabeth Strout's Olive Kitteridge. A standout." —Library Journal (starred review)
"[Kitchens of the Great Midwest is] the first novel about the emergence and current state of foodie culture… Fundamentally, [it's] about what happens when opposing personalities coexist: those who bake with real butter versus those who don't, those who obsess over heirloom tomatoes alongside those who don't even know what they are. It uses these categories as a way to look at one of the most confusing, liberating truths there is, which is that often the people we think we're the least like are the ones we end up needing the most." –Book Forum

"[A] delicious debut from Stradal.. . Food and family intertwine in this promising debut that features triumph, heartbreak, and even recipes."—Kirkus
"Stradal's first novel is a refreshing and brisk read, with a sophisticated sense of such glories of foodie culture as open-pollinated heirloom corn, pan-seared Walleye and Caesar Cardini's original Caesar Salad."—BBC.com

"Stradal's debut is charming, rife with hardy, self-deprecating humor, but in Kitchens of the Great Midwest [Stradal] really proves his mettle as a novelist to look out for."—Bustle.com 

"Kitchens of the Great Midwest is a big-hearted, funny, and class-transcending pleasure. It's also both a structural and empathetic tour de force, stepping across worlds in the American midwest, and demonstrating with an enviable tenderness and ingenuity the tug of war between our freedom to pursue our passions and our obligations to those we love." —Jim Shepard, author of Project X and National Book Award finalist Like You'd Understand, Anyway
"Tender, funny, and moving, J. Ryan Stradal's debut novel made me crave my mother's magic cookie bars...and every good tomato I've ever had the privilege of eating. Kitchens of the Great Midwest manages to be at once sincere yet sharply observed, thoughtful yet swiftly paced, and the lives of its fallible, realistic, and complicated characters mattered to me deeply. It's a fantastic book."— Edan Lepucki, bestselling author of California
 
"In Kitchens of the Great Midwest, a charming, fast-moving round robin tale of food, sensuality and Midwestern culture, Mr. Stradal has delivered one extremely tasty, well-seasoned debut in what is sure to be a long and savory career."—Janet Fitch, author White Oleander
 
"From the quite literally burning passions of a lonely eleven-year-old girl with an exceptional palate, to the ethical dilemmas behind a batch of Blue Ribbon Peanut Butter Bars, J. Ryan Stradal writes with a special kind of meticulous tenderness—missing nothing and accepting everything. A superbly gratifying debut."—Meg Howrey, author of The Crane's Dance
 
"An impossible-to-put-down, one-of-a-kind novel. The prose is beautiful, the characters memorable, and the plot is surprising at every turn. I have never read a book quite like this—and neither, I'll bet, have you. This stunning debut announces J. Ryan Stradal as a first-rate voice in American fiction. This is a wildly creative, stunningly original, and very moving novel. I can't wait to see what Stradal does next."— Rob Roberge, author of The Cost of Living
 
"A Great American Novel in the fullest sense of the term. Everything you want a book to be."—Ben Loory, author of Stories for Nighttime and Some for the Day