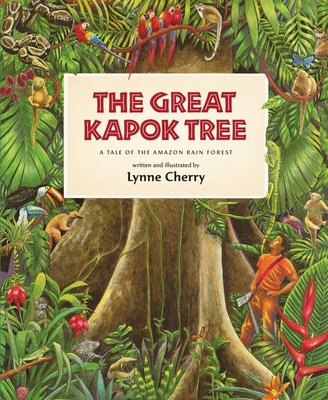 The Great Kapok Tree: A Tale of the Amazon Rain Forest
Publication Date:
March 6th, 2000
Usually Ships in 1 to 5 Days
Description
A modern fable with an urgent message for young environmentalists. "Spectacular." (School Library Journal)
Lynne Cherry journeyed deep into the rain forests of Brazil to write and illustrate this gorgeous picture book about a man who exhausts himself trying to chop down a giant kapok tree. While he sleeps, the forest's residents, including a child from the Yanomamo tribe, whisper in his ear about the importance of trees and how "all living things depend on one another" . . . and it works.
Cherry's lovingly rendered colored pencil and watercolor drawings of all the "wondrous and rare animals" evoke the lush rain forests. Features stunning world maps bordered by detailed illustrations of fascinating rainforest creatures.
An IRA Teacher's Choice * ABA Pick of the Lists * Reading Rainbow Review Book * NSTA-CBC Outstanding Trade Book for Children
Praise for The Great Kapok Tree: A Tale of the Amazon Rain Forest
"Exceptionally colorful, bright and full of life. Effectively makes specific the larger story of endangered rain forests by taking the problem one creature at a time." — People
"Spectacular." — School Library Journal
"This modern fable with its urgent message contains an abundance of information." — The Horn Book