The One and Only Wolfgang: From Pet Rescue to One Big Happy Family (Hardcover)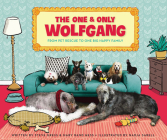 Staff Reviews
---
If you like this, you'll like his Instagram! Check out wolfgang2242 for more adorable photos and videos!
Who would've thought that a ragtag bunch of animals, ranging from a leggy wolfhound to a portly pig to a teacup-sized pup, would all find a home together? The author, Steve Greig, decided years ago to open his home to animals others might consider "undesirable," leading to a slew of elderly dogs with funny names like Edna and Wilhemena! This book is a wonderful story of compassion, whimsy, and love. Be sure to check Steve's Instagram page, wolfgang2242, for more quality pig, dog, rabbit, and/or chicken content!
-Megan
— From
Felicitous February Staff Picks
Description
---
From Instagram sensation Steve Greig and New York Times bestselling author Mary Rand Hess comes this humorous, heartwarming story about Greig's real-life menagerie of senior rescue animals affirms that, in a family, everyone belongs.
What makes a family? Is it sharing favorite foods, cuddling up for snuggle time, loving each other no matter what you look like in the morning?
For Steve Greig's oddly wonderful, real-life family of senior dogs, chickens, rabbits, and a pig named Bikini, family is all those things and then some And this lovable bunch is now starring in their very first children's book that showcases the importance of family.
Meet the Wolfgang, a loveable bunch of animals belonging to Steve and each other. Greig looked for the most "unadoptable" animals and gave them a home ... his home Strange and unique, The One and Only Wolfgang will remind readers that no matter how old or how odd, everyone has a place where they belong.
The One and Only Wolfgang
Is written by Instagram sensation Steve Greig, Wolfgang2242, with close to 800,000 fans and growing
Is co-authored with New York Times bestselling author Mary Rand Hess
Features unique, whimsical art from Nadja Sarell combined with comical photographs of the Wolfgang
Like Steve Greig's Wolfgang2242 Instagram account, features themes of love, friendship, and family
X