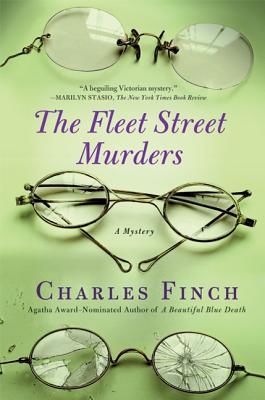 The Fleet Street Murders (Charles Lenox Mysteries #3)
Publication Date:
July 20th, 2010
Publisher:
Minotaur Books
Usually Ships in 1 to 5 Days
Description
Called "absorbing" (Publishers Weekly) and "beguiling" (The New York Times Book Review), The Fleet Street Murders from Charles Finch finds gentleman detective Charles Lenox investigating the mysterious, simultaneous deaths of two veteran newspapermen, while engaged in a heated race for Parliament.
It's Christmas, 1866, and amateur sleuth Charles Lenox, recently engaged to his best friend, Lady Jane Grey, is happily celebrating the holiday in his Mayfair townhouse. Across London, however, two journalists have just met with violent deaths—one shot, one throttled. Lenox soon involves himself in the strange case, but must leave it behind to go north to Stirrington, where he is running for Parliament. Once there, he gets a further shock when Lady Jane sends him a letter whose contents may threaten their nuptials.
In London, the police apprehend two unlikely and unrelated murder suspects. From the start, Lenox has his doubts; the crimes, he is sure, are tied. But how? Racing back and forth between London and Stirrington, Lenox must negotiate the complexities of crime and politics, not to mention his imperiled engagement. But as the case mounts, Lenox learns that the person behind the murders may be closer to him—and his beloved—than he knows.
Praise for The Fleet Street Murders (Charles Lenox Mysteries #3)
"A beguiling Victorian mystery [with] an amiable gentleman sleuth cut from the same fine English broadcloth as Dorothy L. Sayers's Lord Peter Wimsey." —Marilyn Stasio, The New York Times Book Review
"Deftly plotted and richly detailed, The Fleet Street Murders is a taut Victorian thriller delivered from the pen of a master." —Deanna Raybourn, author of Silent on the Moor
"Somewhere in detective heaven, Sherlock Holmes and Lord Peter Wimsey are already preparing a glass of hot whiskey for Mr. Charles Lenox. This suave and flinty sleuth has a gorgeously dangerous future ahead of him, and so do lovers of Victorian mysteries." —Louis Bayard, author of The Black Tower
"This third entry in Finch's series shows the author at his confident best, with a well-conceived story [and] an honorable and amiable hero." —Richmond Times-Dispatch
"A charming and intelligent mystery series. . . . Finch effortlessly evokes a tone fitting the Victorian times, and that is a large part of his novel's charm." —The Oregonian