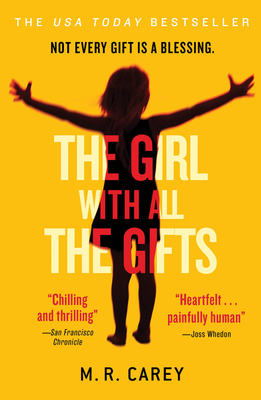 The Girl With All the Gifts
Publication Date:
April 28th, 2015
Usually Ships in 1 to 5 Days
Meet Melanie, a child prodigy around whom circles a group of adults that protect, educate, covet, study, fear, and love her. She is the answer to the countless questions that have arisen since much of the planet and population have been destroyed by a fungal virus. Her intelligence, resilience, and chemical makeup could possibly shed a light on the future of the human race. In a near-future in which critical decisions must be made at a moment's notice, Melanie and her four adult companions will find that their morality is constantly tested and changing. Humans become monsters, but monsters become human, too.
June 2014 Indie Next List
Description
In the ruins of civilization, a young girl's kindness and capacity for love will either save humanity -- or wipe it out in this USA Today bestselling thriller Joss Whedon calls "heartfelt, remorseless, and painfully human."
Melanie is a very special girl. Dr Caldwell calls her "our little genius."
Every morning, Melanie waits in her cell to be collected for class. When they come for her, Sergeant keeps his gun pointed at her while two of his people strap her into the wheelchair. She thinks they don't like her. She jokes that she won't bite, but they don't laugh.
Praise for The Girl With All the Gifts
"Original, thrilling and powerful."—The Guardian
"Unique and terrifying."—Booklist
"An instant favorite."—Boing Boing
"A great read that takes hold of you and doesn't let go."—John Ajvide Lindqvist, author of LET THE RIGHT ONE IN
"Heartfelt, remorseless and painfully human...as fresh as it is terrifying. A jewel."—Joss Whedon
"If you only read one novel this year, make sure it's this one, it's amazing."—Martina Cole
"One of the more imaginative and ingenious additions to the dystopian canon."—Kirkus
"...a brilliant work of science fiction, but even people who never read science fiction should absolutely read this one."—io9.com
"A modern classic for the horror genre."—Book Riot