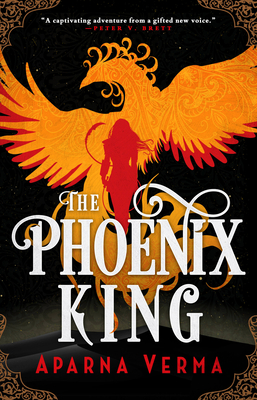 The Phoenix King (The Ravence Trilogy #1)
Publication Date:
August 29th, 2023
Description
From a stunning new voice in science fantasy comes an action-packed debut of fire magic and ancient prophecy, in which the fate of a futuristic desert kingdom rests in the hands of a princess desperate for power and an assassin with a dark secret.
"A CAPTIVATING ADVENTURE." —Peter V. Brett
The Ravani kingdom was born of a prophecy, carved from unforgiving desert sands and ruled by the Ravence bloodline: those with the power to command the Eternal Fire.
Elena Aadya is the heir to the throne—and the only Ravence who cannot wield her family's legendary magic. As her coronation approaches, she will do whatever it takes to prove herself a worthy successor to her revered father. But she doesn't anticipate the arrival of Yassen Knight, the notorious assassin who now claims fealty to the throne. Elena's father might trust Yassen to be a member of her royal guard, but she is certain he is hiding something. 
As the threat of war looms like a storm on the horizon, the two begin a dangerous dance of intrigue and betrayal. And the choices they make could burn down the world.
"Come for the science fantasy worldbuilding and stay for the characters you just can't get out of your head." —Vaishnavi Patel, NYT bestselling author of Kaikeyi
"Elegant and intelligent storytelling...an exhilarating adventure perfect for fans of S.A. Chakraborty." —Library Journal
"A riveting page turner." —Booklist
"This exciting fantasy promises good things from the series to come." —Publishers Weekly
Praise for The Phoenix King (The Ravence Trilogy #1)
"A captivating adventure from a gifted new voice."—Peter V. Brett, New York Times bestselling author of the Demon Cycle
"The kind of book you sit down with to read one chapter and end up spending the whole day on. Come for the science fantasy worldbuilding and stay for the characters you just can't get out of your head."—Vaishnavi Patel, New York Times bestselling author of Kaikeyi
"A heady and seamless blend of sci fi and fantasy infused with Indian inspiration. An engrossing read that will have you quickly turning through the chapters."—R.R. Virdi, USA Today bestselling author of The First Binding
"The worldbuilding is seamlessly woven into the plot, alongside the threads of love, sacrifice, betrayal, and greed. There's also a dash of enemies-to-lovers romance among the morally gray characters, who are both heartbreaking and inspiring. This is elegant and intelligent storytelling that starts out as conniving and treacherous intrigue and transforms into an exhilarating adventure without losing that touch of mystery. Perfect for fans of S.A. Chakraborty."—Library Journal
"A riveting page-turner...which will leave readers anxiously awaiting the next book."—Booklist
"Vast and fascinating.…A satisfying slow-burn romance only enhances the political machinations. This exciting fantasy promises good things from the series to come."—Publishers Weekly
"Verma seamlessly blends fantasy with sci-fi.…A highly recommended read."—Fantasy Hive
"The story is so captivating enough that it's worth having to wait for the next installment. This is Aparna Verma's first novel, but if it's any indication of her future work, readers should be excited to discover what she has to offer."—Cosmic Circus