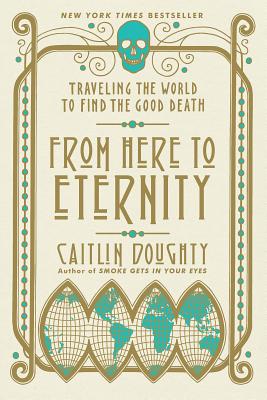 From Here to Eternity: Traveling the World to Find the Good Death
Publication Date:
October 9th, 2018
Publisher:
W. W. Norton & Company
Off the Beaten Path Bookstore
5 on hand, as of Dec 4 4:22am
(Travel Writing)
On Our Shelves Now
Description
A New York Times and Los Angeles Times Bestseller
"Doughty chronicles [death] practices with tenderheartedness, a technician's fascination, and an unsentimental respect for grief." —Jill Lepore, The New Yorker
Fascinated by our pervasive fear of dead bodies, mortician Caitlin Doughty embarks on a global expedition to discover how other cultures care for the dead. From Zoroastrian sky burials to wish-granting Bolivian skulls, she investigates the world's funerary customs and expands our sense of what it means to treat the dead with dignity. Her account questions the rituals of the American funeral industry—especially chemical embalming—and suggests that the most effective traditions are those that allow mourners to personally attend to the body of the deceased. Exquisitely illustrated by artist Landis Blair, From Here to Eternity is an adventure into the morbid unknown, a fascinating tour through the unique ways people everywhere confront mortality.
Praise for From Here to Eternity: Traveling the World to Find the Good Death
Doughty is a relentlessly curious and chipper tour guide to the underworld, and the weirder things get, the happier she seems.… Her dispatches from the dark side [are] doing us all a kindness—offering a picture of what we're in for, even if we'd rather not know.
— New York Times Book Review
Illuminating.… From Here to Eternity humanizes rituals that might otherwise seem unfathomable.
— Paste
Thought-provoking.… Unless you and your friends are immortal, this book pertains to you.
— A. J. Jacobs
Caitlin Doughty is razor sharp, and writes about death with exceptional clarity and style. From Here to Eternity manages to be both an extremely funny travelogue and a deeply moving book about what death means to us all.
— Dylan Thuras, co-founder of Atlas Obscura
Doughty writes bluntly about open-air cremations, natural burials and body composting, bringing a little more clarity and a little less mystery to the question: 'What happens to us after we die?'
— NPR
The macabre travelogue is a thoughtful reflection and a smart critique of the American funeral industry, with plenty of gallows humor thrown in.
— Smithsonian
From Here To Eternity is fascinating, thought-provoking and—who would have guessed?—sometimes funny. Put it on your bucket list.
— Mail on Sundays
It sounds a bit like Eat, Pray, Die, but her project is much larger than its premise first implies. She is searching not for personal spiritual enlightenment or the morbid titillation of thana-tourism, but for practical, radical alternatives to our corporatized death industry. Her travels illuminate a host of compelling possibilities for better funerals and a less fraught relationship with our dead.
— New Republic
Doughty finds the humanity in others cultures' relationship with death that seems to be lacking in ours.
— VICE
This humane book gently provokes you to wonder: what exactly is your ideal funeral?
— The Times