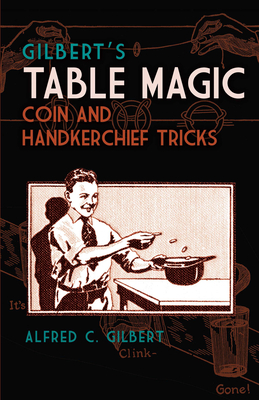 Gilbert's Table Magic: Coin and Handkerchief Tricks
This product is not returnable.
Publication Date:
November 16th, 2016
Publisher:
Dover Publications
Description
Make coins vanish and reappear, make handkerchiefs change color, and make friends, family, and other audiences gasp with delight at your dazzling sleight-of-hand tricks. You can learn the secrets behind dozens of classic maneuvers from Alfred C. Gilbert, a manufacturer of magic kits. The renowned toymaker shared his conjuring secrets in Gilbert Coin Tricks and Gilbert Handkerchief Magic. Published a century ago, these two charming guides are now available in this new single-volume edition.
Geared toward young readers, Gilbert's Table Magic abounds in simple, clearly illustrated instructions that provide insights into ageless entertainments. The tricks are divided into two classes: sleight-of-hand tricks that call for patience, practice, and determination; and a series of tricks that require practically no skill and that anyone can quickly learn. A treasury of tricks for every style of aspiring magician, this book is ideal for both serious magic enthusiasts and more casual readers.
About the Author
Inventor and toymaker Alfred Carlton Gilbert (1884-1961) founded the A. C. Gilbert Company, whose products included microscope, chemistry, and magic sets as well as the popular construction toy, the erector set. When Gilbert successfully lobbied against the Council of National Defense's proposal of banning toy production during World War I, he was dubbed by the press, The man who saved Christmas.