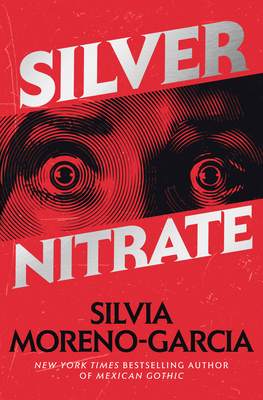 Silver Nitrate
Publication Date:
July 18th, 2023
Off the Beaten Path Bookstore
2 on hand, as of Nov 30 10:38am
(Mystery/Horror)
On Our Shelves Now
I was pulled in by the premise and stayed for the story. I found myself wanting answers as intensely as Montserrat, and as concerned as Tristán. This book is the perfect combination of atmosphere, mystery, and the supernatural.
August 2023 Indie Next List
Description
NATIONAL BESTSELLER • From the author of The Daughter of Doctor Moreau and Mexican Gothic comes a fabulous meld of Mexican horror movies and Nazi occultism: a dark thriller about the curse that haunts a legendary lost film—and awakens one woman's hidden powers.

"No one punctures the skin of reality to reveal the lurking, sinister magic beneath better than Silvia Moreno-Garcia."—Kiersten White, author of Hide
A BEST BOOK OF THE YEAR: The Washington Post, BookPage, Book Riot
Montserrat has always been overlooked. She's a talented sound editor, but she's left out of the boys' club running the film industry in '90s Mexico City. And she's all but invisible to her best friend, Tristán, a charming if faded soap opera star, though she's been in love with him since childhood.
Then Tristán discovers his new neighbor is the cult horror director Abel Urueta, and the legendary auteur claims he can change their lives—even if his tale of a Nazi occultist imbuing magic into highly volatile silver nitrate stock sounds like sheer fantasy. The magic film was never finished, which is why, Urueta swears, his career vanished overnight. He is cursed.
Now the director wants Montserrat and Tristán to help him shoot the missing scene and lift the curse . . . but Montserrat soon notices a dark presence following her, and Tristán begins seeing the ghost of his ex-girlfriend.
As they work together to unravel the mystery of the film and the obscure occultist who once roamed their city, Montserrat and Tristán may find that sorcerers and magic are not only the stuff of movies.
Praise for Silver Nitrate
"In this summer's treat, Silver Nitrate, Moreno-Garcia again deploys horror as a touchstone for a textured ghost story with surprising historical undertones while paying homage to a lesser-known progenitor of the form. True to her method, she succeeds here by knowing when to follow the rules of genre storytelling and when to turn them upside down."—Los Angeles Times
"Best of all is Moreno-Garcia's depiction of the poignant, lifelong friendship between Montserrat and Tristán, with its simmering romantic undercurrent, shared childhood language and adult resentments. Like its namesake, Silver Nitrate catches fire and doesn't stop burning until the end."—The Washington Post
"Silvia Moreno-Garcia proves, once again, that she is one of the most talented writers publishing today."—Ms.
"[A] gripping and atmospheric thriller that seamlessly blends history and magic."—Arlington Magazine
"Hip as hell, Silver Nitrate delivers a cinematic and exhilarating punch. Silvia Moreno-Garcia does it again with this creepy and unforgettable occult thriller, teeming with the decadence of old horror movies. I felt cooler just reading it."—Kali Fajardo-Anstine, bestselling author of Woman of Light and Sabrina & Corina

"I'd read hundreds of pages of just Montserrat and Tristán being cantankerously charming best friends, but add a cursed film and a secret society of sorcerers? Perfection. No one punctures the skin of reality to reveal the lurking, sinister magic beneath better than Silvia Moreno-Garcia."—Kiersten White, #1 New York Times bestselling author of Hide
"Silvia Moreno-Garcia is a treasure and Silver Nitrate is a gem: a chilling roller coaster of a tale that captures perfectly why we love horror movies, scary books, and things that go bump in the night."—Chris Bohjalian, New York Times bestselling author of The Lioness

"Silver Nitrate is a popcorn thrill ride into the underbelly of 1990s Mexican horror movies and occultism. Moreno-Garcia crafts a world so rich with details and history that you won't be able to look away."—Dana Schwartz, #1 New York Times bestselling author of Anatomy: A Love Story

"You don't just read this book, you live in it—and it will charm you, intrigue you, and scare the daylights out of you."—Tim Powers, World Fantasy Award–winning author of The Anubis Gates
"Moreno-Garcia's prose is enchanting, full of perfect phrases that dot every page."—BookPage (starred review)

"A love letter to Mexico City's film industry and an excellent entry into the popular horror subgenre of occult films."—Library Journal
"An engaging, inventive story of moviemaking and the occult for film geeks and genre buffs."—Kirkus Reviews
"This is a knockout."—Publishers Weekly (starred review)