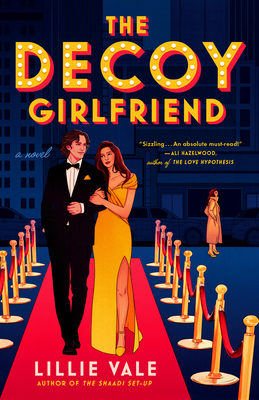 The Decoy Girlfriend
Publication Date:
September 6th, 2022
Publisher:
G.P. Putnam's Sons
Off the Beaten Path Bookstore
1 on hand, as of Nov 30 10:38am
(Romance)
On Our Shelves Now
Description
A laugh-out-loud funny and whip-smart romantic comedy from the author of The Shaadi Set-Up, about a young woman who takes the place of her celebrity doppelgänger, and must fake-date the actress's sexy costar boyfriend.
Writer Freya Lal has a huge secret: she's a dead ringer for It-girl actress Mandi Roy. Her second novel is due in a month, but inspiration is nowhere to be found. Desperate to shake off her writer's block, Freya leans into her look-alike abilities and indulges in some mistaken identity for simple perks, like scoring a free mimosa or getting into a trendy nightclub. 
 
Actor Taft Bamber appears to have it all: gorgeous, talented, and Mandi's love interest both on- and off-screen. But what nobody knows is that their relationship is a PR stunt, and after years of playing make-believe, he's yearning for something real. 
 
When Freya's latest impersonation of Mandi goes viral thanks to Taft's accidental interference, rumors of a breakup threaten Hollywood's golden couple. To make amends, Freya is forced to give Mandi a little time off: she'll pretend to be the actress for a month, move in with Taft, and squash the rumors by acting completely in love. But as Freya and Taft play house, it becomes impossible to ignore that their instant chemistry isn't just for the cameras. While faking it, they might have just found the real thing. 
Praise for The Decoy Girlfriend
One of
PopSugar's Best New Books of 2022 So Far
Paste's 10 Best Contemporary Romance Books: Fake Dating Edition
BookBub's Best Romances of the Second Half of 2022
BookRiot's 17 New Romance Books You Need to Read This September
"The Decoy Girlfriend is Lillie Vale's best act yet." –PopSugar
 
"A definite must read…[this] cute fake turned real romcom checked all the right boxes." –Harlequin Junkie
"This is a perfectly engaging, flirty rom-com staged around a couple that any reader will be able to fall for. An irresistible romance." –Kirkus Reviews, starred review
"A contemporary Hollywood spin on The Prince and the Pauper...Vale manages to add some fun new layers to the fake dating trope and delivers plenty of celebrity drama. Rom-com fans will find much to enjoy." –Publishers Weekly

"[The Decoy Girlfriend] is of-the-moment and offers readers a glimpse into the life of modern novelists....Peels back the glamour of celebrity to reveal the romance and beauty of the everyday." –Library Journal
"The fake dating and celebrity tropes are fun and believable in Vale's entertaining romantic comedy, following The Shaadi Set-Up (2021)…[T]he romance is wholly satisfying. Fans of Hollywood romances will relish this, and readers of royalty romance may also enjoy this genre cousin." –Booklist
"Fans of fake dating and celebrity culture will love Lillie Vale's The Decoy Girlfriend." –BookRiot
"Much like Lillie Vale's debut, The Decoy Girlfriend is voicy, witty, and fulfilling authentic. Lillie Vale knows exactly how to write relatable characters with sizzling chemistry and mix humor and longing in her stories. The Decoy Girlfriend is the irresistible fake-dating romcom of my heart—an absolute must read!" –Ali Hazelwood, author of The Love Hypothesis
 
"I loved getting lost in the bubbly escapism of The Decoy Girlfriend. The Princess Switch meets The Lizzie McGuire Movie (with some very grown-up lust and longing) in this celebrity romance, but beneath the zaniness of the fake dating to hide a fake dating scheme is a book about grief and about the challenges of being a creative and sharing your art with the world. A glittery delight of a rom-com with a genuine emotional center." –Alison Cochrun, author of The Charm Offensive
 
"The Decoy Girlfriend mixes razor sharp wit with achingly tender romance to create a fake-dating rom-com you won't soon forget. Vale is a master of snark and sweet, and I'll read anything she writes." –Mazey Eddings, author of A Brush with Love
 
"I INHALED Lillie Vale's witty, sexy, and irresistible spin on fake dating in Hollywood. Taft and Freya's electric chemistry hooked me from their first meeting, and I swooned watching it evolve into a genuine, tender, soul-deep connection. A must-read for all fans of celebrity romance, sparkling narrative voice, and complex, lovable characters." –Ava Wilder, author of How to Fake It in Hollywood
"Smart, sweet, and sexy, The Decoy Girlfriend serves up a swoon-worthy romance, a charming cast of characters and an honest glimpse into the writing life. I devoured it." –Lauren Kate, author of By Any Other Name