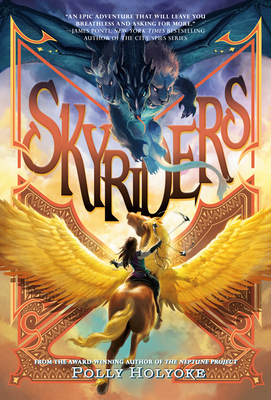 Skyriders
Publication Date:
April 9th, 2024
Publisher:
Viking Books for Young Readers
Description
Wings of Fire meets Skandar and the Unicorn Thief in this epic fantasy adventure set in a world where human and skysteed share a deep bond of friendship and love.
When monsters emerge to attack the empire, it's up to Kiesandra and her beloved winged horse N'Rah to prove to herself and the imperial army that she has what it takes to lead them to victory . . . and survival.
Twelve-year-old Kiesandra's best friend isn't human, but that doesn't stop her from sharing jokes and secrets with her winged horse, N'Rah. She, like every other person with a skysteed, can communicate with N'Rah through her mind. Their bond is critical when one day, monsters from long ago reemerge to ravage a nearby village. No one knows how to fight the fearsome chimerae except Kie's uncle . . . and now Kie.
Injured in the battle, Uncle Dug makes her promise to bring his attack plan and weapons to the capital. Kie reluctantly agrees. At the palace, she and N'Rah attempt to gain the trust of the royals and train the army in Dug's lessons. But how can a young girl and her skysteed convince anyone that only they know how to defeat the deadly monsters?
Buzzing with action, heart, and friendship, this first book in the Skyriders series show that kids can achieve the impossible—especially with flying horses on their side.
Praise for Skyriders
"Skyriders soars off the page and takes you along for an epic adventure that will leave you breathless and asking for more. I can't wait for the next book in the series!"
—James Ponti, New York Times bestselling author of the City Spies series
"A breathtaking, mythical adventure. This is the kind of book I would have devoured and read over and over again as a kid. I devoured it as an adult, too!" 
 —Liesl Shurtliff, New York Times bestselling author of Rump and the Time Castaways trilogy
"Kiesandra Torsun is an unforgettable heroine who never gives up, even when facing staggering odds against vicious three-headed monsters attacking her homeland. Her loyalty, courage, and kindness won me over and her bond with her winged horse left me dazzled."
—Mary E. Pearson, New York Times bestselling author of The Remnant Chronicles
"Readers will enjoy this gripping fantasy whose satisfying conclusion leaves the path open for the sequel. A thrilling series opener."
—Kirkus Reviews
"In this invigorating adventure, Holyoke offers a warmhearted tale that emphasizes communication and empathy without neglecting tension and danger, while plotlines surrounding the Empire's class- and race-based inequity provide additional fodder for conversation."
—Publishers Weekly