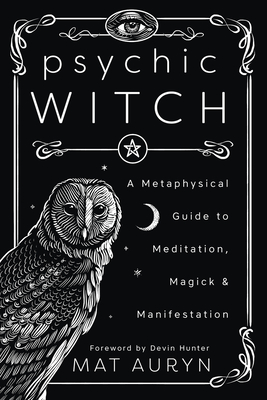 Psychic Witch: A Metaphysical Guide to Meditation, Magick & Manifestation
Publication Date:
February 8th, 2020
Publisher:
Llewellyn Publications
Usually Ships in 1 to 5 Days
Description
Uncover the Secrets to Becoming a Powerful Psychic Witch
Popular writer and witch Mat Auryn reveals his most closely guarded tips, practices, and meditations for unlocking your psychic abilities and elevating your witchcraft into exciting new territory. Featuring over ninety exercises, this groundbreaking book helps your magick and your senses reach their full potential.
Witchcraft and psychism are two sides of the same coin--they complement and strengthen one another. Psychic Witch provides everything you need to not only master the perception and manipulation of energy, but also to perform magick anywhere and at any time. This ingenious book teaches you how to use subtle energy in new ways and manifest your perceptions into instant magickal results.
About the Author
Mat Auryn is a witch, professional psychic, and occult teacher. He is also the multi-award-winning author of the international bestselling book Psychic Witch and a High Priest in the Sacred Fires Tradition of Witchcraft. He is a teacher at Modern Witch University, and has a column in Witches & Pagans magazine entitled "Extra-Sensory Witchcraft." He has been featured in various magazines, radio shows, podcasts, books, anthologies, and other periodicals. To find out more about him and his work visit his website or follow him on Instagram @matauryn.Devin Hunter is the bestselling author of The Witch's Book of Power, The Witch's Book of Spirits, The Witch's Book of Mysteries, the critically acclaimed Modern Witch, and Crystal Magic for the Modern Witch. Initiated into multiple occult orders, Devin is the founder of the Sacred Fires Tradition of Witchcraft and co-founder of the Black Rose Tradition of Witchcraft. He hosts the Modern Witch podcast, recommended by both the AV Club and Glamour, and he's co-owner of Datura Trading Co. Visit him at ModernWitch.com/Devin.