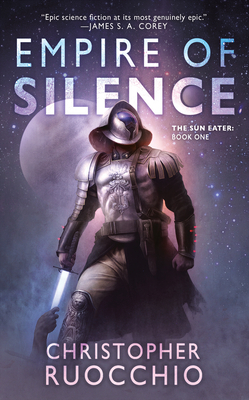 Empire of Silence (Sun Eater #1)
Publication Date:
June 4th, 2019
Description
Hadrian Marlowe, a man revered as a hero and despised as a murderer, chronicles his tale in the galaxy-spanning debut of the Sun Eater series, merging the best of space opera and epic fantasy.

It was not his war.
The galaxy remembers him as a hero: the man who burned every last alien Cielcin from the sky. They remember him as a monster: the devil who destroyed a sun, casually annihilating four billion human lives—even the Emperor himself—against Imperial orders.
But Hadrian was not a hero. He was not a monster. He was not even a soldier.
On the wrong planet, at the right time, for the best reasons, Hadrian Marlowe starts down a path that can only end in fire. He flees his father and a future as a torturer only to be left stranded on a strange, backwater world.
Forced to fight as a gladiator and navigate the intrigues of a foreign planetary court, Hadrian must fight a war he did not start, for an Empire he does not love, against an enemy he will never understand.
Praise for Empire of Silence (Sun Eater #1)
Praise for Empire of Silence:
"Empire of Silence is epic science fiction at its most genuinely epic.  Ruocchio has made something fascinating here, and I can't wait to see what he does next." —James S.A. Corey, New York Times-bestselling author of The Expanse novels
"Christopher Ruocchio's Empire of Silence is epic-scale space opera in the tradition of Iain M. Banks and Frank Herbert's Dune, without being a clone of either of them. His is a welcome new voice in science fiction." —Eric Flint, author of the bestselling 1632 series
"Empire of Silence has the sweep and political complexity of Dune (though no sandworms). It builds to a blazing climax, followed by a satisfying conclusion. I recommend the book." —David Drake, bestselling author of the RCN Series
"Empire of Silence is a rich tapestry of future history and worldbuilding, a galactic-sized story of a hero, a tyrant, but portrayed as a man." —Kevin J. Anderson, New York Times-bestselling author of The Dark Between the Stars
 
"Empire of Silence packs in action and erudition in equal measure. This is a gripping first installment in a space opera that delivers both high-adrenaline thrills and hard-earned wisdom about the human spirit." —D.J. Butler, author of Witchy Eye
"A richly imagined epic, briskly and vividly told." —R.M. Meluch, author of the Tour of the Merrimack series
 
"A craftsman of rare ability, Christopher Ruocchio lures you into a future filled with danger, action, irony, vaulting prose, and a few, precious dollops of hope." —David Brin, author of Earth and The Postman
 
"Space opera fans will savor the rich details of Ruocchio's far-future debut, which sets the scene for a complicated series.... Readers who like a slow-building story with a strong character focus will find everything they're looking for in this series opener." —Publishers Weekly
"Although stretched across a vast array of planets, the story line is often more focused on the intimate than on the expanse, giving it a wonderful emotional punch. This wow book is a must for fans of Pierce Brown and Patrick Rothfuss." —Library Journal (starred review)