The Distinguished Gentleman's Ride: A Decade of Dapper (Paperback)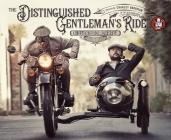 $40.00

Usually Ships in 1-5 Days
Staff Reviews
---
The Distinguished Gentleman's Ride is a motorcycle event of epic proportions, founded 10 years ago in Sydney Australia as a fundraiser for prostate cancer research and men's mental health initiatives. If you're part of the motorcycle community, you've most likely heard about the DGR. Men and women go all out for this event. I'm talking classic bikes, custom outfits, and nearly 40 million dollars raised. This book not only documents the best outfits and rigs of the last decade, but it tells the stories of the people who have been the most influential in the event's growth. This book is the perfect option for people who want to contribute to a worthwhile cause, anyone with a love of classic motorcycles, dapper styling, and the open road!
-Jenna
— From
Jumpin' January Staff Picks
Description
---
The Distinguished Gentleman's Ride: Decade of Dapper documents and celebrates 10 years of raising funds and awareness for men's health initiatives with engaging stories and gorgeous photography.
Starting from the simple, joyous act of riding a motorcycle, The Distinguished Gentleman's Ride (DGR) has united hundreds of thousands of smartly dressed gentlefolk around the world on classic and vintage-style motorcycles to raise over $35 million for prostate cancer and men's mental health initiatives. The annual event has attracted the world's attention and created some truly amazing stories (and thousands of great images) along the way.
The success of the DGR has seen it become so much more than just a charity event. It's now a kind of global moto family that's made up of thousands of incredible stories, characters, cities, and ambassadors that are all wrapped up in a kind of motorcycling fashion renaissance. It's as much about the amazing people that make it happen as it is about the bikes.
The Distinguished Gentleman's Ride is filled with:
Engaging stories about the riders and what motivates them
Dapper fashion and stunning images from dozens of celebrated moto photographers in some of the world's most iconic locations
Personal contributions from the likes of actor and TV presenter Charley Boorman, MotoGP world champion Freddy Spencer, and actor Jai Courtney
As a lasting record of the hundreds of stories of triumph and heartbreak from the DGR family, this book
brings to life the positive, global impact that motorcyclists have made on men's health
.
About the Author
---
The Distinguished Gentleman's Ride unites classic and vintage-style motorcycle riders all over the world to raise funds and awareness for prostate cancer research and men's mental health. The Distinguished Gentleman's Ride was founded in Sydney, Australia, by Mark Hawwa. It was inspired by a photo of a Hollywood celebrity astride a classic bike while wearing his finest suit. Mark decided a themed ride would be a great way of connecting niche motorcycle enthusiasts and communities while raising funds to support the men in our lives.
Charley Boorman is an English television presenter, actor, and travel writer. Boorman is a noted motorbike enthusiast, and is well known for a series of three long-distance motorcycle journeys with friend Ewan McGregor, documented in the films Long Way Round, Long Way Down, and Long Way Up. At a young age, Boorman started acting in films directed by his father John Boorman. His first role was in Deliverance, and he also appeared in Ridley Scott's Alien. A cancer survivor, he has been a long-time supporter of both Movember and The Distinguished Gentleman's Ride. Boorman resides in London, UK.