The Farmer's Away! Baa! Neigh! (Hardcover)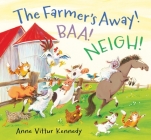 $15.99
Usually Ships in 1-5 Days
Staff Reviews
---
Chris's June 2014 Staff Pick: This book is so much fun to read, especially aloud.
Neigh Neigh Baa Baa
Moo Moo Tweet
Honk Honk Oink Oink
Arf Cheep Eek
All the animals sneak out for a day of fun, but have to make it home before the farmer does. The illustrations are wonderful and bright.
— From
Chris's Picks
Description
---
When you see a horse, say neigh The animal sounds tell the story in an infectiously rhythmic picture book that's a delight to read aloud. What mischief do the animals get up to when the farmer's back is turned? Anne Vittur Kennedy lets us know in the animals' own words There will be boating, of course, and a picnic, a rollercoaster ride, Jet Skiing, a hot-air balloon, ballroom dancing -- oh, no Could that arf arf arf mean the farmer's heading back? Even the youngest listeners can read this book aloud by following along with the pictures and making each animal's sound.
About the Author
---
Anne Vittur Kennedy started out as a music teacher in public schools, but shifted to illustration in 1982. She has illustrated many children's books, including the Miss Fox series by Eileen Spinelli and the Pony Scouts series by Catherine Hapka. Anne Vittur Kennedy lives near Columbus, Ohio.
Praise For…
---
Colorful acrylic spreads burst with action, while the cheerful, catchy text consists entirely of rhymed, onomatopoeic animal sounds as the frolicsome cows, horses, birds, pigs, dogs and mice, as well as other animals, sing together to form a nonsensical chorus that toddlers will happily join. ... Babies, toddlers and very young emergent readers will delight in the strong, playful rhythm and energetic and detailed illustrations in this introduction to the noisy world of animal sounds.
—Kirkus Reviews (starred review)