Discounted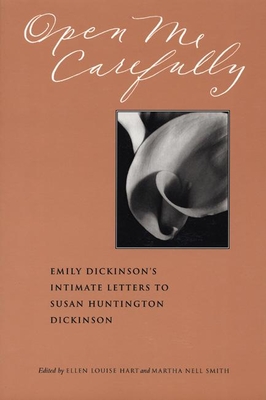 Open Me Carefully: Emily Dickinson's Intimate Letters to Susan Huntington Dickinson (Paris Press)
Previous price:

$21.95
Current price:

$19.95
Publication Date:
October 1st, 1998
Off the Beaten Path Bookstore
1 on hand, as of Dec 7 4:22am
(Literature)
On Our Shelves Now
Description
Emily Dickinson's uncensored and breathtaking letters, poems, and letter-poems to her sister-in-law, Susan Huntington Dickinson
For the first time, selections from Emily Dickinson's thirty-six year correspondence with her childhood friend, neighbor, and sister-in-law, Susan Huntington Dickinson, are compiled in a single volume. Open Me Carefully invites a dramatic new understanding of Emily Dickinson's life and work, overcoming a century of censorship and misinterpretation. For the millions of readers who love Emily Dickinson's poetry, Open Me Carefully brings new light to the meaning of the poet's life and work. Gone is Emily as lonely spinster; here is Dickinson in her own words, passionate and fully alive. With spare commentary, Smith ... and Hart ... let these letters speak for themselves. Most important, unlike previous editors who altered line breaks to fit their sense of what is poetry or prose, Hart and Smith offer faithful reproductions of the letters' genre-defying form as the words unravel spectacularly down the original page. Renee Tursi, THE NEW YORK TIMES BOOK REVIE.
Praise for Open Me Carefully: Emily Dickinson's Intimate Letters to Susan Huntington Dickinson (Paris Press)
"Emily Dickinson's surviving letters to Susan, which began ardently a few years before Susan's marriage and continued almost until the poet's death in 1886, outnumber her letters to anyone else. After an examination of these cryptic messages, Ellen Louise Hart and Martha Nell Smith have emerged up in arms for Susan. In compiling Open Me Carefully (which includes more than 20 poems and one letter not previously connected with Susan), they aim to show that the women enjoyed a long, close relationship, one whose workaday exchange of 'letter-poems' (Susan's term) contributed to 'the texture of their daily life.' Even more urgent, however, is their intent to champion Susan as Dickinson's 'primary reader' — the person they believe exerted the most significant, sustaining influence on Dickinson's poetic and erotic sensibility…. With spare commentary, Smith and Hart wisely let these letters speak for themselves. Most important, unlike previous editors who altered line breaks to fit their sense of what is poetry or prose, Hart and Smith offer faithful reproductions of the letters' genre-defying form as the words unravel spectacularly down the original page. All the better to appreciate, in a fresh and overdue context, that poetic voice we have come to know — iridescent, puzzling, explosive."THE NEW YORK TIMES BOOK REVIEW
"In writing filled with warmth, humor, playfulness, and joy, Emily Dickinson shows her profound attachment to Susan as a friend and an object of literary inspiration. The romantic and often romantically charged writings, censored or misinterpreted in earlier collections, will surprise many readers. Building upon standard works such as Thomas Johnson's Letters of Emily Dickinson (1958), Ellen Louise Hart and Martha Nell Smith revise earlier scholarship and provide fresh commentary. Published by Paris Press, a highly selective feminist press that typically produces only two titles per year, this book is an important acquisition for academic and larger public libraries." LIBRARY JOURNAL