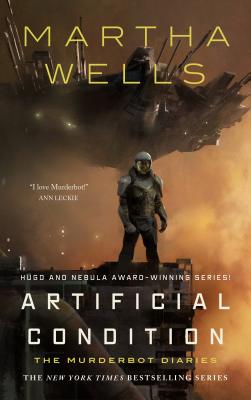 Artificial Condition: The Murderbot Diaries
Publication Date:
May 8th, 2018
Usually Ships in 1 to 5 Days
Description
A USA Today bestseller
The "I love Murderbot!" —Ann Leckie
Artificial Condition is the follow-up to Martha Wells's Hugo, Nebula, Alex, and Locus Award-winning, New York Times bestselling All Systems Red
It has a dark past—one in which a number of humans were killed. A past that caused it to christen itself "Murderbot". But it has only vague memories of the massacre that spawned that title, and it wants to know more.
Teaming up with a Research Transport vessel named ART (you don't want to know what the "A" stands for), Murderbot heads to the mining facility where it went rogue.
What it discovers will forever change the way it thinks…
The Murderbot Diaries
All Systems Red
Artificial Condition
Rogue Protocol
Exit Strategy
Network Effect
Fugitive Telemetry
System Collapse
Praise for Artificial Condition: The Murderbot Diaries
PRAISE FOR THE MURDERBOT DIARIES SERIES
"I love Murderbot!" —Ann Leckie, author of Ancillary Justice

"The Murderbot series is a heart-pounding thriller that never lets up, but it's also one of the most humane portraits of a nonhuman I've ever read. Come for the gunfights on other planets, but stay for the finely drawn portrait of a deadly robot whose smartass goodness will give you hope for the future of humanity." —Annalee Newitz, author of Autonomous
"Clever, inventive, brutal when it needs to be, and compassionate without ever being sentimental." —Kate Elliott, author of the Spirit Walker trilogy
"Endearing, funny, action-packed, and murderous." —Kameron Hurley, author of The Stars Are Legion
"Not only a fun, fast-paced space-thriller, but also a sharp, sometimes moving character study that will resonate with introverts even if they're not lethal AI machines." —Malka Older, author of Infomocracy
"Wells gives depth to a rousing but basically familiar action plot by turning it into the vehicle by which SecUnit engages with its own rigorously denied humanity." —Publishers Weekly starred review
"I already can't wait for the next one." —The Verge
"A great kick-off for a continuing series." —Locus
PRAISE FOR MARTHA WELLS
"Martha Wells writes fantasy the way it was meant to be poignant, evocative, and astonishing. Prepare to be captivated 'til the sun comes up." —Kameron Hurley, author of The Mirror Empire and God's War
"The Cloud Roads has wildly original world-building, diverse and engaging characters, and a thrilling adventure plot. It's that rarest of fantasies: fresh and surprising, with a story that doesn't go where ten thousand others have gone before. I can't wait for my next chance to visit the Three Worlds!" —N. K. Jemisin, author of The Fifth Season

"Breathtakingly surprising and fun. For readers who missed earlier entry points to this delightful series, now is the time to get on board." —The New York Times on The Edge of Worlds