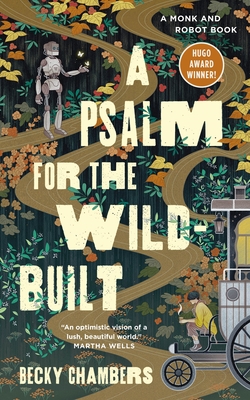 A Psalm for the Wild-Built (Monk & Robot #1)
Publication Date:
July 13th, 2021
Off the Beaten Path Bookstore
1 on hand, as of Dec 7 4:22am
(Sci-Fi / Fantasy)
On Our Shelves Now
What do you do when you have everything you could ever need or want, but still aren't satisfied with what your life is? A Psalm for the Wild-Built is a short and sweet odd-couple road trip set in a beautiful world that could be our world — if we wanted it to be.
July 2021 Indie Next List
Description
Winner of the Hugo Award!

In A Psalm for the Wild-Built, bestselling Becky Chambers's delightful new Monk and Robot series, gives us hope for the future.
It's been centuries since the robots of Panga gained self-awareness and laid down their tools; centuries since they wandered, en masse, into the wilderness, never to be seen again; centuries since they faded into myth and urban legend.
One day, the life of a tea monk is upended by the arrival of a robot, there to honor the old promise of checking in. The robot cannot go back until the question of "what do people need?" is answered.
But the answer to that question depends on who you ask, and how.
They're going to need to ask it a lot.
Becky Chambers's new series asks: in a world where people have what they want, does having more matter?
Praise for A Psalm for the Wild-Built (Monk & Robot #1)
A USA Today Bestseller!
An MPIBA Bestseller!
A Locus Award Finalist!
A Brooklyn Public Library Book Prize Finalist!
"A Psalm for the Wild-Built begins a series that looks optimistic and hopeful, pursuing stories that arise from abundance instead of scarcity, kindness instead of cruelty, and I look forward to seeing where it goes from here." —NPR
"The gentle touch with which Chambers handles her material makes the book's loftiest philosophical aims feel grounded. With a pervading sense of optimism and warmth, A Psalm for the Wild-Built inaugurates an exciting series from one of science fiction's brightest stars." —Shelf Awareness starred review
"Hugo Award–winning author Becky Chambers begins a new series with this delightful and quietly philosophical novella that presents a hopeful glimpse into a future where humanity actually does the right thing." —Buzzfeed
"Chambers' writing is always tender and healing, but this book has something else braided into it — something more... This is a book that, for one night, made me stop asking 'what am I even for?' I'm prescribing a preorder to anyone who has ever felt lost. Stunning, kind, necessary." —Sarah Gailey
"This was an optimistic vision of a lush, beautiful world that came back from the brink of disaster. Exploring it with the two main characters was a fun and fascinating experience." —Martha Wells
"I'm the world's biggest fan of odd couple buddy road trips in science fiction, and this odd couple buddy road trip is a delight: funny, thoughtful, touching, sweet, and one of the most humane books I've read in a long time. We could all use a read like this right now." —Sarah Pinsker
"I read this book in one sitting when I was having a really wretched day, and it helped. It felt like a warm cup of tea made by someone who loves me. It's a soft hug of a book, and it says 'It's okay if you're not okay right now.' It made me cry the good sort of tears—the sort when someone is unexpectedly kind to you at the moment you need it most." —Alexandra Rowland
"A joyful experience and, as with all of Chambers's books, I was left with a warm, fuzzy feeling inside." —New Scientist
"The first book in Chambers' new series feels like a moment to breathe, a novel that exists to give readers a place to rest and think… Recommended for fans of Chambers' Wayfarers series and The House in the Cerulean Sea by TJ Klune." —Booklist Starred Review
"Written with all of Chambers' characteristic nuance and careful thought, this is a cozy, wholesome meditation on the nature of consciousness and its place in the natural world. Fans of gentle, smart, and hopeful science fiction will delight in this promising series starter." —Publishers Weekly
"Throw out that depresso for this cozy cup of tea." —BuzzFeed
"I'm so pleased that this is the first of a series, and that there will be more of this world, because, wow, do I want more of it. This book is the type of reading experience I'd recommend to anyone having a hard time, which might be a lot of people at this point... it's a comforting story about comfort and care, as soothing to read as it is to think about, and so full of hope and wonder and potential discovery. I hope you'll try it." —Smart Bitches, Trashy Books