Chronicle Books Donner Dinner Party: A Rowdy Game of Frontier Cannibalism! (Weird Games for Parties, Wild West Frontier Game) (Game)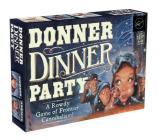 Description
---
Who's safe when there are cannibals hiding among you? That's the question at the heart of this fast-paced game of social deduction in which cannibals and pioneers face off in a fight for survival. Set in the winter of 1846, players are members of the ill-fated Donner Party wagon train, stranded atop a mountain with no food. Who will avoid becoming tonight's dinner and make it off the mountain alive? And who are the suspicious scoundrels hungry for human flesh? Rowdy, outrageous, and full of playful deception, this party game packs a delightfully wicked twist!
Praise For…
---
Holiday Gift pick
-Esquire Magazine
"The Donner Dinner Party spins this historical event in a lighthearted manner...but still offers a short burst of what makes social deduction games so much fun. "
-Geek and Sundry
"On a recent beach vacation, I brought about a dozen games, representing a variety of mechanics. Donner Dinner Party was, by far, one of the most played games. We all had a blast trying to work out who the Cannibals were in our midst. We would play over and over and over, night after night...With Donner Dinner Party's great artwork, game-changing Supply Cards, Hunting Cards, and a couple of neat variants, it's definitely a game worth checking out."
-GeekDad