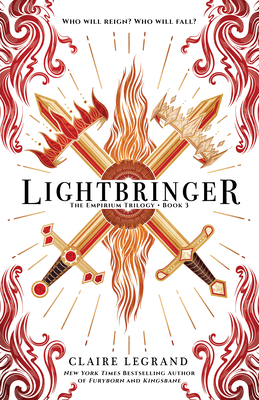 Lightbringer (The Empirium Trilogy)
Publication Date:
October 13th, 2020
Publisher:
Sourcebooks Fire
Usually Ships in 1 to 5 Days
Description
The incredible conclusion to the Empirium Trilogy that started with the instant New York Times bestsellers Furyborn and Kingsbane! This series is perfect for those looking for books for teen girls and is also one of the best fantasy series for adults and teens!
Two queens, separated by a thousand years must face their ultimate destinies.
Queen Rielle, pushed away from everything she loves, turns to Corien and his promises of glory. Meanwhile, whispers from the empirium slowly drive her mad, urging her to open the Gate. Separated from Audric and Ludivine, she embraces the role of Blood Queen and her place by Corien's side, determined to become the monster the world believes her to be.
In the future, Eliana arrives in the Empire's capital as a broken shell of herself. Betrayed and abandoned, she fights to keep her power at bay—and away from Corien, who will stop at nothing to travel back in time to Rielle, even if that means destroying her daughter.
But when the mysterious Prophet reveals themselves at last, everything changes, giving Rielle and Eliana a second chance for salvation—or the destruction their world has been dreading.
An epic fantasy with female protagonist, the Empirium Trilogy has captured the hearts of many and Lightbringer concludes this beloved teen fantasy series.
Praise for Furyborn:
A BuzzFeed Most Anticipated Title of Spring 2018
A Goodreads Most Anticipated Title of Spring 2018
A Bustle Most Anticipated Title of Spring 2018
"A must-read." —Refinery29
"A series to watch." —Paste magazine
"Visionary." —Bustle magazine
"One of the biggest new YA fantasies." —Entertainment Weekly
"Empowering." —BuzzFeed
Praise for Lightbringer (The Empirium Trilogy)
"[A] conclusion sure to satisfy fans of the trilogy," — Kirkus Reviews
"A rousing conclusion to a series studded with unforgettable heroes and villains." — Booklist
"Legrand brings her trilogy to a triumphant but bittersweet ending, effortlessly weaving together complicated plot strands and giving further nuance to already complex characters" — The Bulletin of the Center for Children's Books