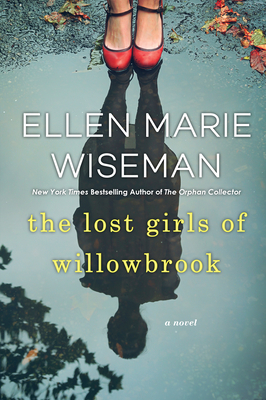 The Lost Girls of Willowbrook: A Heartbreaking Novel of Survival Based on True History
Publication Date:
August 30th, 2022
Off the Beaten Path Bookstore
1 on hand, as of Dec 4 4:22am
(Fiction)
On Our Shelves Now
Based on the horrible truth of the Willowbrook State School, Wiseman tells a powerful story of sisters and the true strength of family. An emotional ride that speaks to real historic events and the cruelty in institutions like Willowbrook.
September 2022 Indie Next List
Description
Instant New York Times Bestseller!
Girl, Interrupted meets American Horror Story in 1970s Staten Island, as the New York Times bestselling author of The Orphan Collector blends fact, fiction, and the urban legend of Cropsey for a haunting story about a young woman mistakenly imprisoned at Willowbrook State School – the real state-run institution that Geraldo Rivera would later expose for its horrifying abuses.
An Indie Next Pick | Peruse Book Club Pick | A Room of Your Own Book Club Pick | A Publishers Lunch Buzz Books Selection
Sage Winters always knew her sister was a little different even though they were identical twins. They loved the same things and shared a deep understanding, but Rosemary—awake to every emotion, easily moved to joy or tears—seemed to need more protection from the world.
Six years after Rosemary's death from pneumonia, Sage, now sixteen, still misses her deeply. Their mother perished in a car crash, and Sage's stepfather, Alan, resents being burdened by a responsibility he never wanted. Yet despite living as near strangers in their Staten Island apartment, Sage is stunned to discover that Alan has kept a shocking secret: Rosemary didn't die. She was committed to Willowbrook State School and has lingered there until just a few days ago, when she went missing.
Sage knows little about Willowbrook. It's always been a place shrouded by rumor and mystery. A place local parents threaten to send misbehaving kids. With no idea what to expect, Sage secretly sets out for Willowbrook, determined to find Rosemary. What she learns, once she steps through its doors and is mistakenly believed to be her sister, will change her life in ways she never could imagined . . .
"A heartbreaking yet insightful read, this novel will open one's eyes to the evil in this world." —New York Journal of Books
"Unvarnished, painful and startlingly clear." —Bookreporter.com
Praise for The Lost Girls of Willowbrook: A Heartbreaking Novel of Survival Based on True History
Praise for The Lost Girls of Willowbrook
"Ellen Marie Wiseman's powerful new novel will bring awareness to a whole new audience…Wiseman doesn't shy away from the truth about conditions at Willowbrook, and some of the descriptions are harrowing to read. The mystery of her twin's disappearance and Sage's determination to find the truth keep the pages turning, particularly in the latter stages of the book. Grounded in historical fact, it ends like a fast-paced thriller. A comprehensive author's note at the end is well worth the read." —Historical Novel Society
"A heartbreaking yet insightful read, this novel will open one's eyes to the evil in this world."
—New York Journal of Books

"A portrait of Willowbrook State School that is unvarnished, painful and startlingly clear…Bringing the unquiet ghosts of Willowbrook to life is what this book does best, and if it didn't do anything else, it would be worth your time…credit to Ellen Marie Wiseman for bringing Willowbrook back to the national consciousness." —Bookreporter.com
Praise for Ellen Marie Wiseman
"Wiseman shows how humans are capable of great cruelty but also great compassion in this ultimately uplifting, compelling read." —Shelf Awareness on The Orphan Collector
"Readers will not be able to help making comparisons to the COVID 19 pandemic, and how little has changed since 1918. Wiseman has written a touching tale of loss, survival, and perseverance with some light fantastical elements. Highly recommended for all collections." —Booklist on The Orphan Collector
 
"Wiseman's writing is superb, and her descriptions of life during the Spanish Flu epidemic are chilling. In Pia, Wiseman has created a character that will draw in readers with her courage and resilience. In Bernice, we find the darker side of American attitudes toward immigrants prevalent during the early 1900s. She is truly despicable character, yet horrifyingly beguiling. Well researched and impossible to put down, this is an emotional tug of war played out brilliantly on the pages and in readers' hearts." —The Historical Novels Review, EDITOR'S CHOICE for The Orphan Collector
 
"Wiseman chronicles the devastation the 1918 flu pandemic wrought on a German immigrant family in Philadelphia…Wiseman's depiction of the horrifying spread of the Spanish flu is eerily reminiscent of the present day and resonates with realistic depictions of suffering, particularly among the poorer immigrant population. Historical fiction fans will appreciate Pia and her pluck and determination to survive." —Publishers Weekly (Boxed Review) for The Orphan Collector
 
"Wiseman's novel raises relevant issues about what it means to be an American and about the forms that anti American sentiment can take in times of crisis…Reading the novel in the time of COVID 19 adds an even greater resonance, and horror, to the description of the fatal spread of that 1918 flu. The pathos inspired by the sheer scale and indiscriminate nature of pandemic death is almost overwhelming, especially given current events." —Kirkus Reviews on The Orphan Collector  
 
"The author masterfully conveys empathy for the characters…an emotional roller coaster that was eerily similar to today's events. I felt Pia's strength, courage, guilt, and grief come through the pages clear as day." —The Seattle Book Review on The Orphan Collector
 
"Wiseman's blistering, moving and profound novel, set against the devastating backdrop of the 1918 Spanish flu, hones in on an extraordinary exploration of the plight of immigrants, as two very different women grapple with finding, keeping, and changing their place in the world. Absolutely amazing." —Caroline Leavitt, New York Times bestselling author on The Orphan Collector
 
"An immersive historical tale with chilling twists and turns. Set during the Spanish Flu epidemic in Philadelphia, this atmospheric novel explores the depravity to which some will sink in adversity, but it also illuminates the strength of family bonds and the resilience of the human heart. Beautifully told and richly imagined." —Stephanie Dray, New York Times bestselling author on The Orphan Collector
"Switching back and forth in time and narration from Lilly to Julia, Wiseman has crafted a can't put it down novel of family secrets involving two young girls who only seek to be loved. Perfect for book clubs and readers who admired Sara Gruen's Like Water for Elephants." —Library Journal, STARRED REVIEW for The Life She Was Given
"Ellen Marie Wiseman gathers potent Gothic elements in The Life She was Given to examine the impact of child abuse across generations. A sumptuous plot balances horror and tenderness to reveal lesser known facets of history... The Life She was Given is a vibrant maze of desires. The sharp divide between expectations and painful truths, mothers and daughters, past and present, culminate in a sensational finale." —ForeWord Reviews
"A powerful, poignant novel." —In Touch, Grade A for The Life She Was Given
"Wiseman excels at creating an atmosphere...Her characters are all vividly drawn and complex, especially Lilly's abusive mother, Coralline. But at the heart of Wiseman's tale of loss and redemption are Lilly and Julia, connected in spirit by their determination to overcome years of pain and sorrow. Fans of Karen White and Sara Gruen will be drawn in by the drama and mystery of Wiseman's novel." —BookPage on The Life She Was Given
"Intense and heartbreaking at times, but full of hope. The author's impeccable research into this era makes for a spot on portrayal of a dark time in American history. Coal River [is] one of the most "unputdownable" books of 2015." —The Historical Novels Review, Editor's Choice for The Plum Tree
 
"Wiseman eschews the genres usual military conflicts of daily life during wartime, lending an intimate and compelling poignancy to this intriguing debut." —Publishers Weekly on The Plum Tree
"An unusual point of view on the Holocaust. [The Plum Tree] is a story of star crossed lovers in a time of genocide…The details are exquisite and very thorough. Young adult readers will find it refreshing to read a different perspective toward WWII Germany. The terrors of the war will ignite compassion and disbelief." —VOYA Magazine
 
"Ellen Marie Wiseman's provocative and realistic images of a small German village are exquisite. The Plum Tree will find good company on the shelves of those who appreciated Skeletons at the Feast, by Chris Bohjalian, Sarah's Key, by Tatiana de Rosnay and Night, by Elie Wiesel." —New York Journal of Books on The Plum Tree
"Ellen Marie Wiseman weaves a story of intrigue, terror, and love from a perspective not often seen in Holocaust novels." —Jewish Book World on The Plum Tree
 "The meticulous hand crafted detail and emotional intensity of The Plum Tree immersed me in Germany during its darkest hours and the ordeals its citizens had to face. A must read for WWII Fiction aficionados—and any reader who loves a transporting story." —Jenna Blum, New York Times bestselling author of Those Who Save Us on The Plum Tree
"The Plum Tree is a touching story of heroism and loss, a testament to the strength of the human spirit and the power of love to transcend the most unthinkable circumstances. Deft storytelling and rich characters make this a highly memorable read and a worthy addition to the narratives of the Holocaust and Second World War." —Pam Jenoff, New York Times bestselling author of The Ambassador's Daughter
"In The Plum Tree, Ellen Marie Wiseman boldly explores the complexities of the Holocaust. This novel is at times painful, but it is also a satisfying love story set against the backdrop of one of the most difficult times in human history." —T. Greenwood, bestselling author of Two Rivers