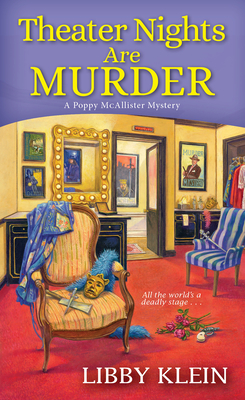 Theater Nights Are Murder (A Poppy McAllister Mystery #4)
Publication Date:
December 31st, 2019
Usually Ships in 1 to 5 Days
Description
The last thing gluten-free baker Poppy McAllister needs in her life is more drama—or more murder . . .
 
Poppy thought her toughest challenge this winter would be sticking to her Paleo diet and filling all her orders for her gluten-free goodies, but now she has to choose between two suitors. She's not the only one with boyfriend drama. Aunt Ginny's long-ago high-school beau, Royce Hanson, a retired Broadway actor, has returned to Cape May, New Jersey, to star in a Senior Center staging of Mamma Mia. Leaving Aunt Ginny to wonder: What's his motivation?
 
Slated to open February 13th, the problem-plagued production seems to be cursed—with stolen props, sabotage, and even a death threat. But when a cast member plunges to his death from a catwalk, it soon becomes clear a murderer is waiting in the wings. Now Poppy, Aunt Ginny, and a supporting cast must take center stage to catch the killer—before it's curtains for someone else . . . 
 
Includes Seven Recipes from Poppy's Kitchen!
 
"Fans of Chopped will have fun juggling the complicated set of suspects and following a romantic triangle that has yet to be resolved."
—Kirkus Reviews on Restaurant Weeks Are Murder
About the Author
Libby Klein graduated Lower Cape May Regional High School in the '80s. Her classes revolved mostly around the culinary sciences and theater, with the occasional nap in Chemistry. She has worked as a stay at home mom, climbing the ranks to the coveted position of Grandma. She also dabbles in the position of Vice President of a technology company which mostly involves bossing other people around, making spreadsheets, and taking out the trash. She writes culinary cozy mysteries from her Northern Virginia office while trying to keep her cat Figaro off her keyboard. Most of her hobbies revolve around eating, and travel, and eating while traveling.