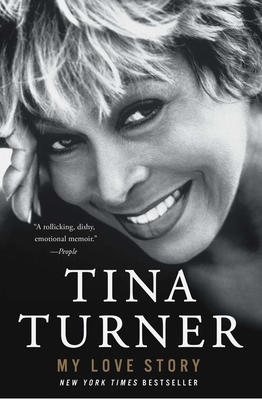 My Love Story
Publication Date:
September 3rd, 2019
Usually Ships in 1 to 5 Days
Description
In this New York Times bestseller, Tina Turner—the long-reigning queen of rock & roll—reveals personal stories she's never told before in print or film, about her complicated relationship with her mother, the tragic death of her son, and finally finding true love with Erwin, setting the record straight about her illustrious career in this eye-opening and compelling memoir.
From her early years in Nutbush, Tennessee to her rise to fame alongside Ike Turner to her phenomenal success in the 1980s and beyond, Tina candidly examines her personal history, from her darkest hours to her happiest moments and everything in between.
My Love Story is an explosive and inspiring story of a woman who dared to break any barriers put in her way. Emphatically showcasing Tina's signature blend of strength, energy, heart, and soul, this is a gorgeously wrought memoir as enthralling and moving as any of her greatest hits.
About the Author
Tina Turner, born Anna Mae Bullock, was a singer and actress whose career spanned more than sixty years. She won numerous awards, including eight Grammys. Tina began her music career with her husband Ike Turner as a member of the Ike & Tina Turner Revue. Success followed with a string of hits including "River Deep, Mountain High" and "Proud Mary." She divorced Ike in 1978 and, after virtually disappearing from the music scene for several years, rebuilt her career, launching a string of hits including her 1984 solo album Private Dancer. In 1986, she published a bestselling memoir I Tina which was turned into the Academy Award-nominated film What's Love Got to Do with It in 1993. One of the world's most popular entertainers, Tina sold more concert tickets than any other solo music performer in history. She lived with her husband in Zurich, Switzerland until her death in 2023 at the age of eighty-three.
Praise for My Love Story
"Full of revelations that illustrate Turner's iron will and perseverance over seemingly impossible obstacles."
— USA Today
"A rollicking, dishy, emotional memoir from the 78-year-old icon."
— People
"Brave and wry."
— Vulture
"Astonishing, soul-baring - the must-read memoir by rock's greatest survivor."
— Daily Mail (UK)
"Harrowing . . . Fascinating . . . Neither sensationalistic nor self-serving . . . For a famous sex symbol who has turned a tragedy into a fairy tale, Turner is charmingly down to earth." 
— The New York TImes
"[Tina Turner] shares openly and in riveting detail in her new memoir, My Love Story...If you want to get closer to a living legend, this engrossing work is decidedly the way to do it."
— Parade.com