The Art of Procrastination: A Guide to Effective Dawdling, Lollygagging, and Postponing, or, Getting Things Done by Putting Them Off (CD-Audio)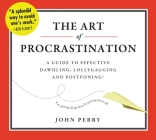 $16.95
Usually Ships in 1-5 Days
Description
---
John Perry's insights and laugh-out-loud humor bring to mind Thurber, Wodehouse, and Harry Frankfort's On Bullshit. This charming and accessible audio educates, entertains, and illuminates a universal subject. Procrastinators will be relieved to learn that actually you can accomplish quite a lot while procrastinating. In fact, the book itself is the result of Perry avoiding grading papers, refereeing academic proposals, and reviewing dissertation drafts. It also has a practical side, offering up advice that listeners can put to use. Who knew that placing "Learn Chinese" at the top of your to-do list would inspire you to get the less monumental tasks below it done? Witty, wise, and beautifully written, The Art of Procrastination will make the perfect gift for the untold number of lollygaggers out there.
About the Author
---
After working in the radio/production field for fifteen years, BRIAN HOLSOPPLE has been a full-time voiceover artist for well over a decade. In addition to audiobooks, he has done work for The Discovery Channel, the FBI, the US Army, and others. He is the voice of Thomas Jefferson in the official Park Service program at the Mount Rushmore National Monument.
John Perry is an emeritus professor of philosophy at Stanford University and currently teaches at UC Riverside.
He is the co-host of the nationally syndicated public radio program Philosophy Talk, and winner, in 2011, of an Ig Nobel Prize in Literature for the essay "Structured Procrastination." He lives with his wife in Palo Alto, California.
Praise For…
---
"This is a fun audiobook—guaranteed to make fellow procrastinators chuckle and laugh throughout its relatively short run time. By the way, it took John Perry 16 years to turn his essay into a book and it may well have been worth the wait."
—DWD's Reviews
"With a charming brand of vocal confidence and one of the clearest baritone voices in audio, Brian Holsopple does a wonderful job of delivering . . . [Perry's] invitation for procrastinators to stop beating themselves up."
—AudioFile