The Boxcar Children Collection Volume 4: Schoolhouse Mystery, Caboose Mystery, Houseboat Mystery (CD-Audio)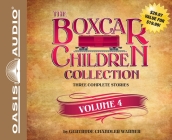 $19.99
Email or call for price.
Description
---
Schoolhouse Mystery: The Boxcar Children are spending the summer in a tiny, quiet New England fishing village. The little schoolhouse doesn't have a proper teacher, so the Aldens are teaching! There's also a very old library where nobody ever goes — nobody, that is, except for a mysterious stranger. For such a small town, Port Elizabeth has a lot of secrets! Caboose Mystery: When the Aldens spend the summer riding on a train, they get to live in a train car once again — this time, they're staying in Caboose No. 777. The number is hard to forget, and indeed, the children meet people at each stop who seem to know it well. It turns out Caboose No. 777 has an unusual past — one that comes with its very own mystery! Houseboat Mystery: The Aldens are spending the summer traveling on a houseboat! But someone is watching them — and the thing that he wants is somewhere on their boat! He'll stop at nothing to get it and it's up to the Boxcar Children to figure out why!
About the Author
---
The Boxcar Children Series was created by Gertrude Chandler Warner, a teacher, when she realized that there were few, if any, books for children that were both easy and fun to read. She drew on her own experiences in writing the mysteries. As a child, she had spent hours watching trains near her home, and often dreamed about what it would be like to live in a caboose or freight car. In each story, she chose a special setting and introduced unpredictable, unusual or eccentric characters, to help highlight the Aldens' independence and resourcefulness. Miss Warner lived in Putnam, Massachusetts until her death in 1979.