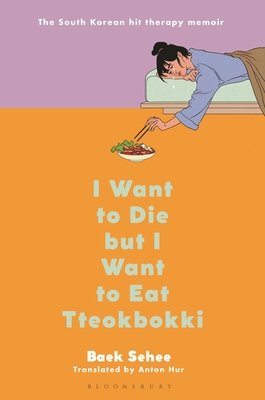 I Want to Die but I Want to Eat Tteokbokki: A Memoir
Publication Date:
November 1st, 2022
Publisher:
Bloomsbury Publishing
Off the Beaten Path Bookstore
1 on hand, as of Nov 30 10:38am
(Psychology/Self Help)
On Our Shelves Now
Description
The internationally bestselling therapy memoir translated by International Booker Prize shortlisted Anton Hur.
PSYCHIATRIST: So how can I help you?

ME: I don't know, I'm – what's the word – depressed? Do I have to go into detail?
Baek Sehee is a successful young social media director at a publishing house when she begins seeing a psychiatrist about her - what to call it? - depression? She feels persistently low, anxious, endlessly self-doubting, but also highly judgmental of others. She hides her feelings well at work and with friends, performing the calmness her lifestyle demands. The effort is exhausting, overwhelming, and keeps her from forming deep relationships. This can't be normal. But if she's so hopeless, why can she always summon a desire for her favorite street food: the hot, spicy rice cake, tteokbokki? Is this just what life is like?
Recording her dialogues with her psychiatrist over a twelve-week period, and expanding on each session with her own reflective micro-essays, Baek begins to disentangle the feedback loops, knee-jerk reactions, and harmful behaviors that keep her locked in a cycle of self-abuse. Part memoir, part self-help book, I Want to Die but I Want to Eat Tteokbokki is a book to keep close and to reach for in times of darkness. It will appeal to anyone who has ever felt alone or unjustified in their everyday despair.
Praise for I Want to Die but I Want to Eat Tteokbokki: A Memoir
"At once personal and universal, this book is about finding a path to awareness, understanding, and wisdom." —Kirkus Reviews
"Honest and authentic throughout . . . A sincere attempt at self-discovery that will resonate with young people who suffer from similar forms of depression and anxiety." —Library Journal
"Candid . . . heartfelt . . . Sehee's mission to normalize conversation about mental illness is an admirable one." —Publishers Weekly
"A testament to the gradual nature of therapy's cumulative healing effects, I Want to Die should resonate with anyone who eagerly transcribes every nugget of advice they get." —Buzzfeed
"Earnest . . . clever . . . [Baek Sehee] uses months of (real) transcripts from her therapy sessions to explore her own depression and anxiety, always tiptoeing toward something like self-awareness." —Chicago Tribune
"An eye-opening view into a person's most vulnerable moments in a new way." —Cosmopolitan
"With candor and humor, Baek offers readers and herself resonant moments of empathy." —Booklist
"For readers feeling a little icy around the edges, [Sehee's] memoir promises to defrost." —Wired.com
"[I Want to Die but I Want to Eat Tteokbokki] is a therapeutic salve . . . Sehee's memoir is a connective tissue for all of us looking for a silver lining." - PopSugar
"Compelling . . . there is a fascination being inside the counseling room with [Sehee]. We feel we are a party to a sacred realm and find ourselves drawn to her testimony; mesmerized by her ability to keep thwarting herself from getting better. And we want her to get better." —Books & Film Globe
"If you've ever felt exhausted and anxious by performing well-being, this is a book for you." —Ms. Magazine
"This book will comfort anyone who's ever been depressed, anxious, or just frustrated with themselves." —Real Simple
"Baek Sehee ingeniously combines elements of memoir and self-help . . . She offers an intimate look into one patient's experience in therapy and her own analysis of and takeaways from those sessions . . . Everyone is just trying to be as okay as possible, after all-and seeing Sehee's processing of that in I Want to Die but I Want to Eat Tteokbokki is sure to make readers feel a little less alone in their own attempts." —Shelf Awareness