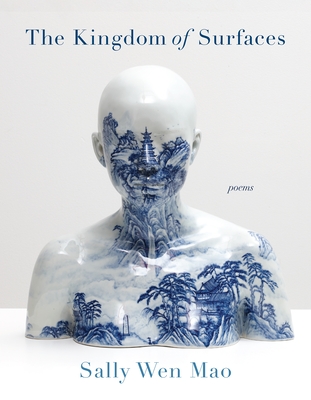 The Kingdom of Surfaces: Poems
Publication Date:
August 1st, 2023
Publisher:
Graywolf Press
Off the Beaten Path Bookstore
3 on hand, as of Nov 30 10:38am
(Poetry Books)
On Our Shelves Now
Description
*FINALIST FOR THE 2023 MAYA ANGELOU BOOK AWARD *
A virtuosic new poetry collection from Sally Wen Mao, "a consistently inspiring and exciting voice" (Morgan Parker)
In The Kingdom of Surfaces, award-winning poet Sally Wen Mao examines art and history—especially the provenance of objects such as porcelain, silk, and pearls—to frame an important conversation on beauty, empire, commodification, and violence. In lyric poems and wide-ranging sequences, Mao interrogates gendered expressions such as the contemporary "leftover women," which denotes unmarried women, and the historical "castle-toppler," a term used to describe a concubine whose beauty ruins an emperor and his empire. These poems also explore the permeability of object and subject through the history of Chinese women in America, labor practices around the silk loom, and the ongoing violence against Asian people during the COVID-19 pandemic.
At its heart, The Kingdom of Surfaces imagines the poet wandering into a Western fantasy, which covets, imitates, and appropriates Chinese aesthetics via Chinamania and the nineteenth-century Aesthetic movement, while perpetuating state violence upon actual lives. The title poem is a speculative recasting of "Through the Looking-Glass," set in a surreal topsy-turvy version of the China-themed 2015 Metropolitan Museum of Art Gala. The Kingdom of Surfaces is a brilliantly conceived call for those who recognize the horrors of American exceptionalism to topple the empire that values capital over lives and power over liberation.
Praise for The Kingdom of Surfaces: Poems
"Mao's third collection probes the world of art to ask how we decide what is beautiful or important, and challenges us to consider the ways culture is shaped by empire and politics."—The New York Times

"The Kingdom of Surfaces is mesmerizing, gorgeous for its attention to language and image, and equally horrifying for what it holds before our gaze and how it challenges that gaze."—Sarah Kain Gotowski, New York Journal of Books
"The Kingdom of Surfaces is an impossibly rich and complex collection. . . . Sally Wen Mao reasserts her place among the most celebrated writers of our time with her expansive and philosophical third collection."—Ronnie K. Stephens, The Poetry Question
"Lineage is a mainstay of The Kingdom of Surfaces. . . . So many gorgeous, sharp lines in this book that often reveal the pain beneath. A stirring collection."—Nick Ripatrazone, The Millions
"Sally Wen Mao's The Kingdom of Surfaces is an honest portrayal of the evils of commodification as well as what we humans are willing to suffer through or cause suffering upon for the sake of beauty."—Maya Williams, Full Stop
"By turns "maker, muse and beholder," Mao (Oculus) explores in her ruminative third collection the politics of beauty and the ironies inherent in culture and civilization under the sign of empire... Emerging from epic battles and 'wreckage,/ wrack of flesh and blood tide,' Mao brandishes her own tenacious imagination."—Publishers Weekly
"Sally Wen Mao's collection The Kingdom of Surfaces is a profoundly moving reflection on what objectification means for the experience of Asian womanhood. Her poems are hard-hitting, educational, and timely. Most importantly, they are a love letter to her Chinese heritage and its color, messiness, and depth—all of which cannot be captured at museums."—Annelie Hyatt, Columbia Journal of Literary Criticism
"Through poems of profound complexity, in the blending of factual accounts with the sometimes surreal, often sublime, imaginings of the speaker, a finely wrought structure of proof and interrogation, vulnerability, power and, especially, of beauty emerges. The book itself becomes the vessel, complex and strange, yet strong enough to contain all the evidence required to hold history accountable."—Allisa Cherry, West Trade Review