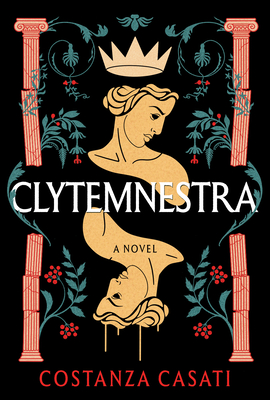 Clytemnestra: A Novel
Publication Date:
May 2nd, 2023
Publisher:
Sourcebooks Landmark
Off the Beaten Path Bookstore
5 on hand, as of Dec 4 4:22am
(Fiction)
On Our Shelves Now
If you think you know Clytemnestra's story, this book will surprise you. The emotional impact sneaks up on you like a summer storm — the world grows darker until lightning strikes! Brutal, visceral, layered, and so well-researched.
May 2023 Indie Next List
Description
"Fans of Circe and Elektra should pick up this powerful Greek myth retelling." —Cosmopolitan
For fans of Madeline Miller, a stunning debut following Clytemnestra, the most notorious villainess of the ancient world and the events that forged her into the legendary queen.
As for queens, they are either hated or forgotten. She already knows which option suits her best…
You were born to a king, but you marry a tyrant. You stand by helplessly as he sacrifices your child to placate the gods. You watch him wage war on a foreign shore, and you comfort yourself with violent thoughts of your own. Because this was not the first offence against you. This was not the life you ever deserved. And this will not be your undoing. Slowly, you plot.
But when your husband returns in triumph, you become a woman with a choice.
Acceptance or vengeance, infamy follows both. So, you bide your time and force the gods' hands in the game of retribution. For you understood something long ago that the others never did.
If power isn't given to you, you have to take it for yourself.
A blazing novel set in the world of Ancient Greece, this is a thrilling tale of power and prophecies, of hatred, love, and of an unforgettable Queen who fiercely dealt out death to those who wronged her.
"Crackles with vivid fury, passion, and strength." —Jennifer Saint, bestselling author of Elektra and Ariadne
Praise for Clytemnestra: A Novel
PRAISED BY Cosmopolitan, Goodreads, BookRiot, POPSUGAR, The Millions, Gizmodo, The Mary Sue, Paste Magazine, Culturess, BookBub, Bookish, The Nerd Daily, and more!
"Fans of Madeline Miller's Circe and Jennifer Saint's Elektra will love this vibrant new addition to the growing canon of feminist retellings of Greek mythology." — The Millions
"A nuanced examination of motherhood, survival, and loss." — BookRiot
"Visceral, bloody prose...Despite Clytemnestra's flaws, her own callousness and violence, you still find yourself empathizing with and rooting for her. You want her to win..." — The Mary Sue
"The trick of this novel, and what ultimately makes it such a compelling read, is its determination to depict its titular character as a complete and fully realized woman, a figure who is more than her worst deeds and whose story is worth telling in its own right...Yet, even as the grim tale rockets toward the conclusion we all know must happen, it's difficult not to wish for a different fate for this bold survivor, who deserves a better ending than the established myths grants her." — Paste Magazine
"Propulsive...richly drawn and lovingly rendered, Casati's Clystemnestra is a brilliant, fierce woman placed, again and again, in untenable circumstances. Readers who are enjoying the current plethora of mythological retellings won't want to miss this absorbing examination of a complicated queen." — Booklist, STARRED review
"A great literary achievement that gives voice to characters who, due to their genders, have been vilified and silenced throughout the millennia...Clytemnestra is a literary tour de force—a novel of passion and vengeance set in Ancient Greece." — Foreword Reviews, STARRED review
"Casati makes this grim tale feel fresh through vivid imagery and nuanced characterizations. It's sure to please fans of the revisionist genre." — Publishers Weekly
"A dazzling portrait of Clytemnestra...an outstanding portrait in humanity, motherhood, sisterhood, grief, loss and revenge." — Historical Novel Society
"Her rendition of this lost-to-history female figure is a fiercely intelligent and brave warrior queen that you'll find yourself rooting for regardless of whether you're usually into classical mythology or not." — Savvymom
"In Casati's strong and immersive debut there are no gods, no heroes, no monsters. There are just humans, driven by their passions and frailties." — The Times
"Casati's imagery was so expansive and imaginative. It utterly swept me into the story, conjuring the poetic epics of the original myths. The writing is lush and immersive, allowing you to lose yourself in this ancient world…. I was so deeply invested in these rich, nuanced characters that I will not be forgetting any time soon." — The Nerd Daily
"Crackles with vivid fury, passion and strength. A powerful, thought-provoking portrayal of a fascinating and complicated woman framed in beautiful prose. I loved it." — Jennifer Saint, bestselling author of Ariadne and Elektra
"What a pleasure to fall in love with Clytemnestra through the mind of Costanza Casati, who renders a singularly vibrant Greece, populated by familiar characters and absolutely alive with emotion and suspense. Casati reveals a Clytemnestra we've never met before: fiercely intelligent, passionate, and loving – and willing to do anything to avenge the ones she loves." — Naomi Krupitsky, New York Times bestselling author of The Family
"Ablaze with transporting moments of deep tenderness and visceral ferocity, Casati's Clytemnestra gives the phrase 'fight like a girl' its rightfully heroic and empowering meaning!" — Buki Papillon, author of An Ordinary Wonder
"Bold and elegant, Costanza Casati's debut bursts onto the page in flashes of light. This book deconstructs Clytemnestra's infamy and then, with tremendous empathy and wisdom, reconstructs her into an enthrallingly complex figure filled with passion and spirit. This fiery tale of revenge and desire really is the stuff of legend—Casati's unflinching storytelling is irresistible." — Sarah Priscus, author of Groupies
"Savage, passionate, and absolutely spellbinding. Costanza Casati's recreation of Sparta is astonishing—you feel you are with Clytemnestra, completely immersed in the brutal world she inhabits with her siblings, whose complex relationships are drawn with skill and tenderness. Clytemnestra's rage, her heartbreak, and her determination radiate off the page—I was utterly gripped." — Elodie Harper, bestselling author of The Wolf Den
"Powerful and sympathetic, Clytemnestra shines a light on Helen of Troy's overshadowed sister. Crafted with page-turning suspense, Casati spins a mesmerizing story of an ambitious warrior queen who must use all her skill to protect herself and those she loves from men who view women not as equals, but as pawns to be sacrificed upon the altars of lust, greed, and fame. An ancient and intriguing tale made fresh for today's 21st century battles." — Liz Michalski, author of Darling Girl
"Powerful and sympathetic, Clytemnestra shines a light on Helen of Troy's overshadowed sister. Crafted with page-turning suspense, Casati spins a mesmerizing story of an ambitious warrior queen who must use all her skill to protect herself and those she loves from men who view women not as equals, but as pawns to be sacrificed upon the altars of lust, greed, and fame. An ancient and intriguing tale made fresh for today's 21st century battles." — Liz Michalski, author of Darling Girl
"Rivals House of the Dragon in conspiracies and feminine brutality. Here is a complex and courageous woman, all flesh and blood, simmering with passion. Facing the grimmest of betrayals, Clytemnestra's ruthless desire for revenge powers a thrilling plot. This is an electrifying read that shocks and fascinates in equal measure." — Liz Fremantle, author of Watch the Lady
"A heroine of fierce spirit caught in a world ruled by men, finding a way through with a sharp, unquenchable courage. With the fire and spark of Madeline Miller and the depths of Mary Renault, Clytemnestra will keep you reading well into the small hours, and your dreams will be of worlds where women reach for the gods.
" — Manda Scott, Bestselling author of A Treachery of Lies
"Casati masterfully brings us into the heart of this hated queen, so we might see what burns inside her, and recognize her fiery spirit within ourselves. " — Vaishnavi Patel, New York Times bestselling author of Kaikeyi