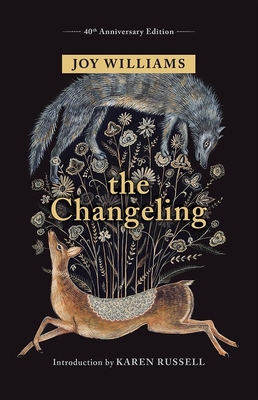 The Changeling
Publication Date:
April 10th, 2018
Publisher:
Tin House Books
Off the Beaten Path Bookstore
1 on hand, as of Nov 29 4:07am
(Literature)
On Our Shelves Now
Description
With a new introduction by Karen Russell, the 40th anniversary edition of The Changeling is a visionary fairy tale and a work of mythic genius by one of our best writers.
Forty years later, The Changeling is no less haunting and no less visionary than the day it was published, but it has only become clearer that Joy Williams is a virtuosic stylist and a singular thinker—a genius in every sense of the word.            
When we first meet Pearl—young in years but advanced in her drinking—she's on the lam, sitting at a hotel bar in Florida, throwing back gin and tonics with her infant son cradled in the crook of her arm. But her escape is brief, and the relief she feels at having fled her abusive husband, and the Northeastern island his family calls home, doesn't last for long. Soon she's being shepherded back. The island, for Pearl, is a place of madness and pain, and her round-the-clock drinking spurs on the former even if it dulls the latter. And through this lens—Pearl's fragile consciousness—readers encounter the horror and triumph of both childhood and motherhood in a new light.            
With language that flits between exuberance and elegy, the plainspoken and the poetic, Joy Williams has blended, as Rick Moody writes, "the arresting improbabilities of magic realism, with the surrealism of the folkloric revival . . . and with the modernist foreboding of Under the Volcano," and created something entirely original and entirely consuming. 
Praise for The Changeling
The Changeling is not a novel. It is a shimmering postpartum hex, a vision hatched from the egg of a divinely original mind decades ago and now officially a classic. Joy Williams will be read long after we are all covered in ants.
— Claire Vaye Watkins
The Changeling is perverse and singular in the manner of all true enchantment. I have never come across anything quite like it, although its DNA is in almost all contemporary fiction that I love.
— Kelly Link
Joy Williams' exquisite vision of mothers and monsters leaves me drunk with wonder. Her language is so powerful, her images so lush, my copy is dogeared on nearly every page.
— Samantha Hunt
Within a single sentence, Joy Williams can swerve from absurd profundity to wicked satire and back, all with miraculous economy and control. . . .  A startlingly alive book, even more resonant today.
— Dana Spiotta, Oprah Magazine (Editor's Pick)
An elusive but enchanting work by one of America's greatest authors.
— Kirkus
Williams is a genius . . . The Changeling remains Williams's fullest plunge into the uncanny and the magical. Give it a try. Let it cast its spell on you.
— Lincoln Michel, BOMB Magazine