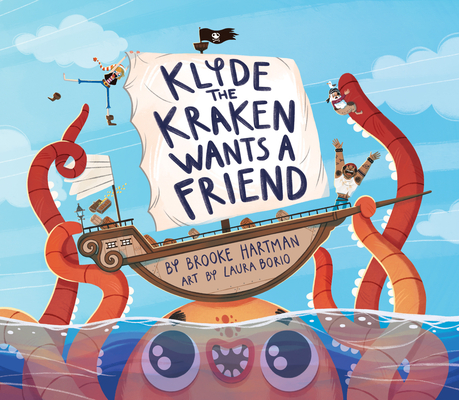 Klyde the Kraken Wants a Friend
Publication Date:
April 25th, 2023
Publisher:
Hazy Dell Press
Usually Ships in 1 to 5 Days
Description
★ 2023 Moonbeam Award Winner (Best Picture Book)

Dive into the hilarious story of a hug-loving kraken who learns that sometimes it's better to keep your tentacles to yourself.

Klyde the kraken loves nothing more than a good hug, but whenever he tries to hug the animals in the ocean, they all swim away. Then one day, the colossal creature's monstrous embrace takes down a pirate ship and the shipwrecked buccaneers surprise Klyde and the reader with a valuable lesson of emotional literacy: While many friends love to hug, some prefer other ways to greet their mateys.
Brooke Hartman's buoyant, cheerful, and sidesplitting verses combine with Laura Borio's beautifully quirky and charming illustrations to deliver a heart-warming story of social-emotional learning on the high seas.
About the Author
Brooke Hartman is an Alaskan mom and author of silly, serious, and sometimes strange stories for children and young adults. Her writing has garnered national awards, including honors from Writer's Digest, Pacific Northwest Writers Association, and the Society of Children's Book Writers and Illustrators. When she's not writing, she can be found flying, fishing, and having fun with her family in their home state of Alaska. Laura Borio was born in Turin, Italy in 1986. In 2008, she attended a comic book course that changed her life. Since then, she has never stopped experimenting and creating. While most of her time is consumed by drawing, Laura also enjoys watching fantasy movies, reading children's books, practicing Tai Chi, eating pancakes with friends, and annoying her cat. Klyde the Kraken Wants a Friend is Laura's debut picture book with Hazy Dell Press.