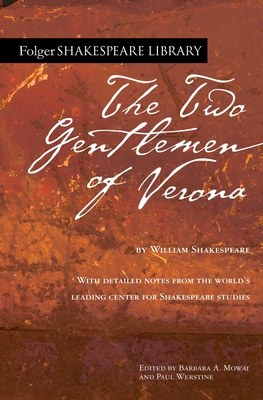 The Two Gentlemen of Verona (Folger Shakespeare Library)
Publication Date:
July 7th, 2020
Publisher:
Simon & Schuster
Usually Ships in 1 to 5 Days
Description
The authoritative edition of The Two Gentlemen of Verona from The Folger Shakespeare Library, the trusted and widely used Shakespeare series for students and general readers.
While the word "gentlemen" suggests that its heroes are adults, The Two Gentlemen of Verona is more intelligible if we think of them as boys, leaving home for the first time. One has a crush on a girl, Julia, though he hasn't yet told her.
Sent to court to learn to be "perfect gentlemen," Valentine and Proteus are derailed by their attraction to Sylvia, the ruler's daughter. Valentine's mental denseness does not deter Sylvia from returning his love, but he is caught, and banished, when he tries to elope with her. Proteus's desire for Sylvia wipes out his former love, leading him into despicable acts that win scorn from Sylvia and wound Julia, who has pursued him disguised as a boy.
When Sylvia follows Valentine into banishment, Proteus follows Sylvia, and Julia follows Proteus, the stage is set for a disturbing ending. But the stage is also set for the "gentlemen" to take small steps toward maturity.
This edition includes:
-Freshly edited text based on the best early printed version of the play
-Full explanatory notes conveniently placed on pages facing the text of the play
-Scene-by-scene plot summaries
-A key to the play's famous lines and phrases
-An introduction to reading Shakespeare's language
-An essay by a leading Shakespeare scholar providing a modern perspective on the play
-Fresh images from the Folger Shakespeare Library's vast holdings of rare books
-An annotated guide to further reading
Essay by Jeffrey Masten
The Folger Shakespeare Library in Washington, DC, is home to the world's largest collection of Shakespeare's printed works, and a magnet for Shakespeare scholars from around the globe. In addition to exhibitions open to the public throughout the year, the Folger offers a full calendar of performances and programs. For more information, visit Folger.edu.