Book reviews: Children's books suggested for holiday giving
Some of us like to receive gift suggestions long before the hectic weeks ahead, so here they are. These recommendations are for the children on your holiday list. We were fortunate to visit the Brandywine Museum in Chadds Ford, Pennsylvania, this fall, and what was their featured show? Children's Illustrators, which is a bookstore owner's dream.
We, at the bookstore, are ready to show you all of our new children's books in the store and pair them with age appropriate gifts for your holiday giving.
This review was originally published in Steamboat Pilot and was written by Sue Krall is co-owner of Off the Beaten Path.

$18.00
ISBN: 9780802853851
Availability: Usually Ships in 1-5 Days
Published: Eerdmans Books for Young Readers - September 15th, 2014
One of the illustrators featured was Melissa Sweet, who beautifully illustrated a picture book by Jen Bryant, "The Right Word: Roget and His Thesaurus." The artwork is stunning in this picture book for children age 7 and older. Sweet makes colorful 3-D collages on top of brilliant watercolors and photographs them with delightful effect.

Bryant tells the story of Peter Roget and his love of words. Young and timid, Roget occupied himself by making lists of descriptive words for the things he observed. The story enlightens the reader about how this evolved into Roget's Thesaurus, in addition to informing about all aspects of his rich, full life as a physician.

Throughout the text and amidst the illustrations are lots of words lists to be discovered anew with each reading. Pairing this book with a children's thesaurus would make the perfect package for a lower grade child. (I recommend the Scholastic Children's Thesaurus or the American Heritage Children's Thesaurus.) The art in the book, however, is for all ages to enjoy.
---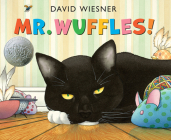 $17.99
ISBN: 9780618756612
Availability: Usually Ships in 1-5 Days
Published: Clarion Books - October 1st, 2013
The amazing David Wiesner was also featured in the exhibit, with special emphasis on his 2013 award-winning Mr. Wuffles!. This is such a fun, wordless picture book for preschoolers and lower-elementary age children, and adults will delight in the story, as well.

We watch as the cat, Mr. Wuffles, explores the cat toys in his home and comes upon a spaceship full of tiny aliens. As the cat bats at the new toy, the aliens become disoriented and motion sick. Their escape brings them new insect friends who can communicate with the aliens with signals, ciphers, and paintings.

This book is so much fun. There is so much to talk about with children when exploring wordless picture books. Wiesner's backlist of children's books is classic, with multiple award winners.
---

$16.99
ISBN: 9780763665302
Availability: Usually Ships in 1-5 Days
Published: Candlewick - October 18th, 2016
A new picture book this season is "Du Is Tak?," by Carson Ellis. I include this book by the illustrator who brought us the beautiful picture book, "Home," last year because of first-hand experience. The title is part of a unique language spoken by the insect characters in the book.

Damselflies, pill bugs, ladybugs and crickets work together to observe and use a plant that is sprouting in their environment. This book isn't for young preschoolers, but more for the inquisitive child of 6 and older. The reason is that, by that age, the reader will be able to decipher what the insects are actually saying to one another.

My 6-year-old grandson was 100 percent into the experience of reading the seemingly nonsense words and, by the middle of the book, being able to tell exactly what the characters were saying to one another.

The illustrations are fun and lush, and the text is hilarious and informative as to how we can understand each other if we take our conversations into context.
---